Sale
Novi
Dodatni prednji LED pokazivači smjera
Ovu si stavku već dodao. U svojoj košarici za kupnju možeš prilagoditi količinu.
Opcijski dijelovi
Više opcijskih dijelova je dostupno da bi lakše ugradili artikl na vaš . Želite li dodati navedene dijelove u košaricu?
Odabrani opcijski dijelovi: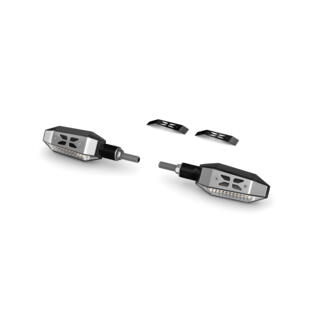 Dodatni prednji LED pokazivači smjera
yme-flb2f-10-00
Opcijski dijelovi koji će biti dodani
Nastavi
Proizvod je dodan u tvoju košaricu
This item is not compatible with the Yamaha you selected.
There are no required parts.
Potražite svoj Yamaha model
Nema rezultata
Odaberi model
Nema rezultata
Select a Yamaha model to see if there are required parts.
NO_PARTS_FOR_SELECTED_UNIT
Odabrana Yamaha
Pojedinosti proizvoda

Elegantni prednji pokazivači smjera s jedinstvenim integriranim pozicijskim svjetlom.

Jedinstvena izvedba tvrtke GK Design posebno za tvrtku Yamaha
Obuhvaća otpornik za upravljanje brzinom treptanja pokazivača smjera
Materijal visoke kvalitete i vrhunska završna obrada
Obuhvaća konektore za brzu montažu
Obuhvaća crne i srebrne pločice za upotpunjavanje izgleda vaše Yamahe po vašem ukusu
Sa cjelokupnom homologacijom kategorije E
Više sigurnosti na cesti zahvaljujući pozicijskom svjetlu
Prodaju se u setu od dva dijela
Moguće kombiniranje s dodatnim stražnjim LED pokazivačima smjera dostupnim u opciji
Disclaimer

Uporaba posebne funkcije i pozicijskog svjetla u kombinaciji s postojećim pozicijskim svjetlom nije dopuštena. Obratite se lokalnom distributeru tvrtke Yamaha.