Sale
Novi
Ovu si stavku već dodao. U svojoj košarici za kupnju možeš prilagoditi količinu.
Opcijski dijelovi
Više opcijskih dijelova je dostupno da bi lakše ugradili artikl na vaš . Želite li dodati navedene dijelove u košaricu?
Odabrani opcijski dijelovi: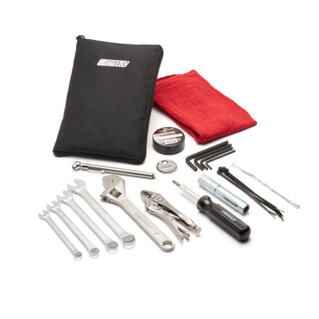 Metric Tool Kit
aba-metrc-00-00
Opcijski dijelovi koji će biti dodani
Nastavi
Proizvod je dodan u tvoju košaricu
This item is not compatible with the Yamaha you selected.
There are no required parts.
Potražite svoj Yamaha model
Nema rezultata
Odaberi model
Nema rezultata
Select a Yamaha model to see if there are required parts.
NO_PARTS_FOR_SELECTED_UNIT
Odabrana Yamaha
Pojedinosti proizvoda

Comprehensive tool set that prepares you for just about anything the road will throw at you..

Includes ring, open end spanners 8, 10, 12 & 14, adjustable spanner, vice grips, 4 way Phillips, flat screw driver, sparkplug spanner and plu gap guage
Includes also a roll of black electricall tape, tyre pressure gauge, cable ties, wire, rag and #3, 4, 5 & 6 Allen keys
Comes in a compact roll-up pouch
Can easily be stowed away in your saddlebag, side case, top case, etc.