Vrhunski supersportski trkaći motocikl.
R6 GYTR opremljen je širokim rasponom trkaćih dijelova marke GYTR i dizajniran za trkaću stazu, a izrađen je kako bi vaše supersportske trkaće performanse podigao na višu razinu. Ovi posebni trkaći dijelovi, uključujući trkaću specifikaciju ECU, ožičenje i komplet umetaka AIS koji optimiziraju snagu motora – a titanska cijev marke Akrapovič smanjuje težinu i izoštrava performanse agregata od 599 ccm pri visokim o/min.
Ostala trkaća oprema uključuje trkaće lančanike, prilagodljivo trkaće postavljanje straga s kompletom za pomicanje unatrag i kompletom kočnih vodova od nehrđajućeg čelika. Dostupan isključivo kod Yamahinih zastupnika GYTR PRO TRGOVINA, R6 GYTR obojan je temeljnom bijelom bojom, a zastupnik ga može prilagoditi trkaćem izgledu koji preferirate i ugoditi (uz doplatu).
Kratki pregled
Dijelovi agregata marke GYTR
Elektronika marke GYTR
Dijelovi podvozja marke GYTR
Pogonski sustav GYTR
Oklop marke GYTR
Lagani agregat zapremnine 599 ccm iznimne učinkovitosti
Kompaktni Deltabox okvir i lagani podokvir od magnezija
Prednja vilica marke KYB od 43 mm
Lagani aluminijski spremnik goriva
Ekskluzivno dostupan putem GYTR PRO TRGOVINA
Ukupne značajke i tehničke specifikacije
R6 GYTR
Nijedan drugi supersportski motocikl od 600 ccm ne može se mjeriti s Yamahom R6 na trkaćim stazama. Bio je to najuspješniji motocikl u gotovo svakoj međunarodnom i nacionalnom Supersportskom nizu utrka. S nekoliko pobjeda na prvenstvu WorldSSP posljednjih godina, R6 je postigao legendarni status. A sada je vrijeme da R6 GYTR olakša pobjeđivanje.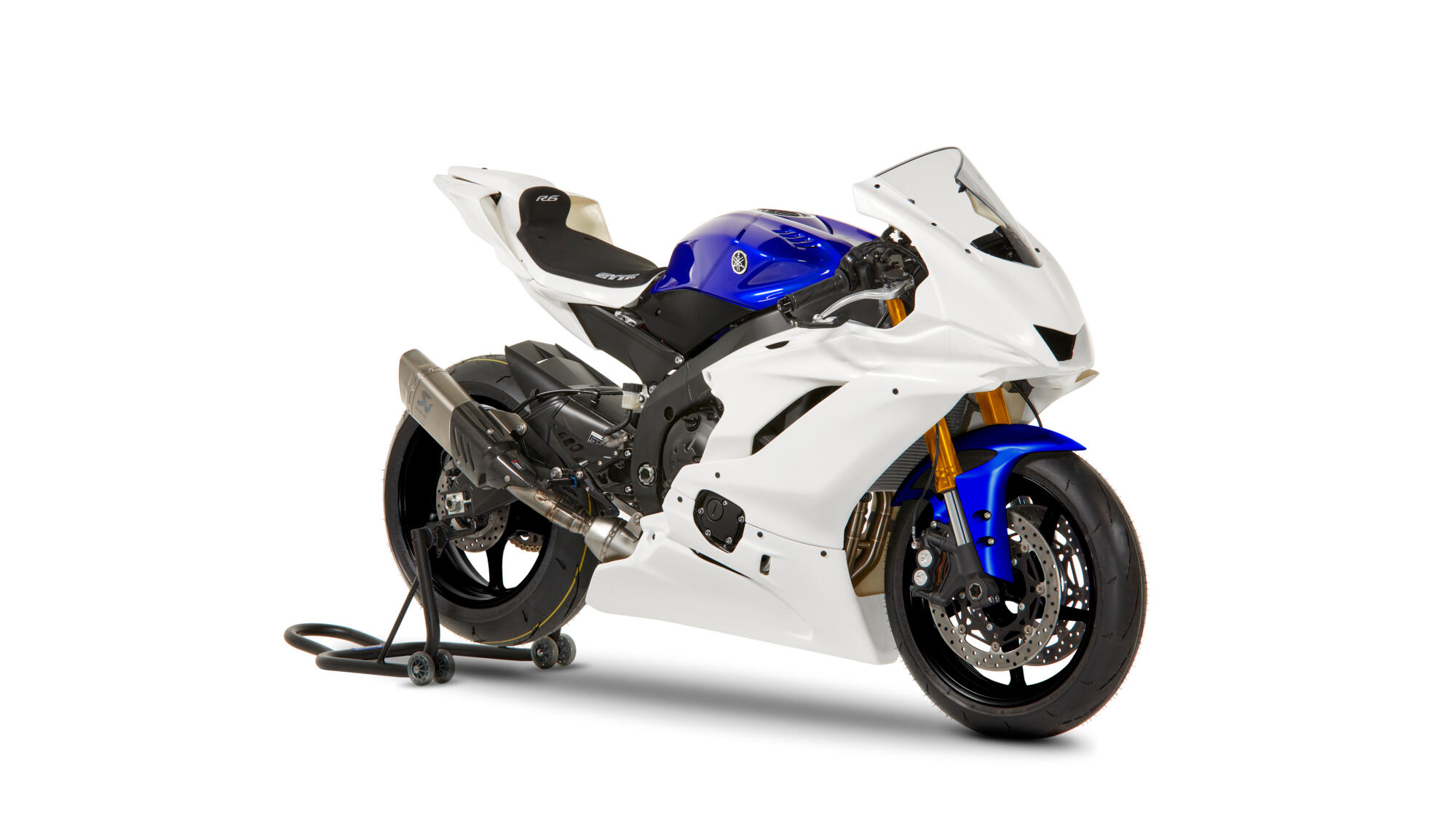 Ovu si stavku već dodao. U svojoj košarici za kupnju možeš prilagoditi količinu.
Proizvod je dodan u tvoju košaricu
This item is not compatible with the Yamaha you selected.
There are no required parts.