Put. Staza. Uzbuđenje.
Prednji ovjes opremljen je vrhunskim amortizerima FOX 1.5 Zero QS3 Kashima, dok stražnji dvostruki amortizer SR137 ima središnji amortizer QS3 Kashima Odlične i snažni Zero QS3-R od 2 inča sa stražnje strane. Prednja široka spojnica i Yamahine skije "Mountain" drže vas ravno, a stražnji ovjes SRV s gusjenicom Back Country od 137 inča brine se za ostalo
Uz uzbuđenje tu su i brojne druge privlačne značajke poput zakrivljenih ručki, sportskog vjetrobrana, električnog pokretanja, hoda unatrag i grijača šake/palca. Zato nemojte pogriješiti: ovaj adrenalinski, pustolovni stroj s turbopunjačem, koji leti stazom, mamit će vas da idete sve dalje, više i brže.
Kratki pregled
Sprijeda – amortizeri FOX® Zero QS3
Stražnji – središnji FOX 1.5 Zero QS3 i FOX 2.0 Zero QS3-R
4-taktni 3-cilindrični agregat Genesis® 180 zapremnine 998 ccm
Yamahin jedinstveni i dojmljivi turbosustav
Veliki okretni moment na niskim obrtajima za upravljanje na dubokom snijegu
Izbočeni pogonski lančanici za sigurno prianjanje na stazi
Yamahine skije Mountain – za izvrsnu preciznost
Dva digitalna mjerača i elegantni vjetrobran
Luksuzno grijano sjedalo i grijači za šake i palčeve
Upravljač s kukicama i podizačom za sigurno upravljanje
Praktično električno pokretanje i prekidač za hod unatrag
Posebne sheme boja i upečatljive LE grafike
Ukupne značajke i tehničke specifikacije
Sidewinder L-TX LE
Provođenje vremena vani na utrtim stazama ili mekom snijegu, u radu ili igri, sjajan je doživljaj – tako nastaju trenuci koji se dugo pamte. Sve su osmišljene tako da pruže nenadmašne performanse u svjetskim razmjerima, neusporedivo upravljanje i vrhunsku udobnost – uz ekonomičnost i pouzdanost.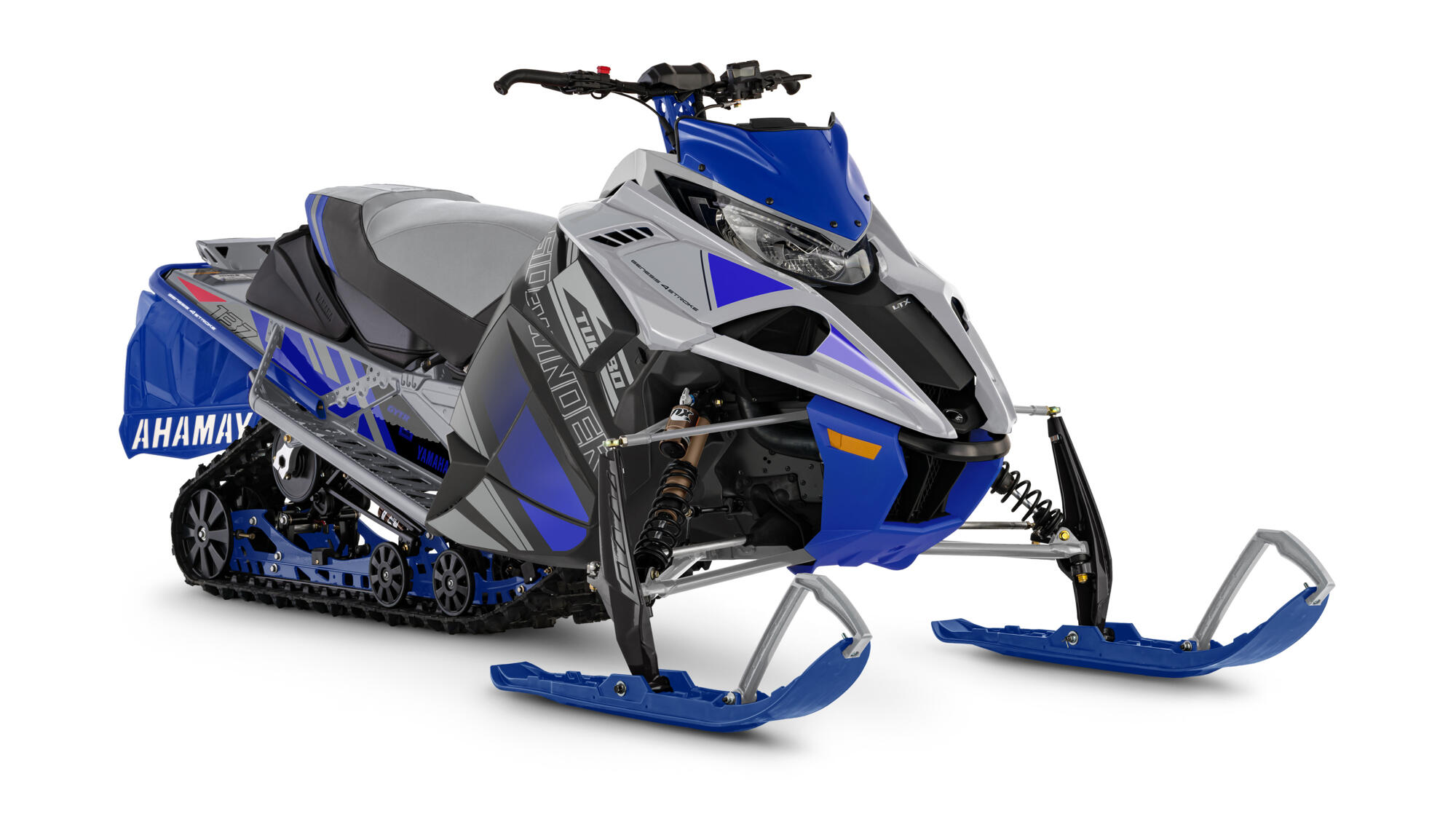 Ovu si stavku već dodao. U svojoj košarici za kupnju možeš prilagoditi količinu.
Proizvod je dodan u tvoju košaricu
This item is not compatible with the Yamaha you selected.
There are no required parts.