Najbrži na svijetu!
Napredni dizajn i nevjerojatna tehnologija u kojima ćete uživati na našem modelu Sidewinder SRX LE agresivnog izgleda, koji nudi još jednu stvar – vožnju života! Ovaj pustolovni stroj s turbo punjenjem i ubrizgavanjem goriva za pustolovno munjevito kretanje stazama na bilo kojoj nadmorskoj visini isporučuje ogromnu snagu i okretni moment, zajedno s neusporedivom udobnošću i kontrolom.
Cijenit ćete i mnoštvo drugih značajki: Obuhvaćaju kukaste ručke, suvremeni sportski vjetrobran, električno pokretanje, stupanj prijenosa za vožnju unatrag i ugodne grijače šake/palca... a posvećen Yamahinom trkaćem naslijeđu, novi SRX ponosno ističe sportsku "retro" shemu u crvenoj i bijeloj boji s naglascima u zlatnoj boji.
Kratki pregled
Genesis® "klasa 180 ks" 4-taktni, 3-cilindrični agregat zapremnine 998 ccm
Yamahin jedinstveni i dojmljivi turbosustav
Prednji ovjes ARCS s amortizerima FOX® 1.5 ZERO iQS
Yamahine skije s jednom vodilicom – za odličnu preciznost
Torzijski stražnji ovjes uparen sa stražnjim amortizerom 2.0 ZERO iQS.
Gusjenica Camso® od 1 inča Ripsaw smanjenog trenja
Izbočeni pogonski lančanici za sigurno prianjanje na stazi
Shema boja i grafika retro stila modela SRX
Luksuzno grijano sjedalo i ugodni grijači za šake i palčeve
Dva digitalna mjerača i elegantni vjetrobran
Upravljač s kukicama i podizačom za sigurno upravljanje
Praktično električno pokretanje i prekidač za hod unatrag
Ukupne značajke i tehničke specifikacije
Sidewinder SRX LE
Provođenje vremena vani na utrtim stazama ili mekom snijegu, u radu ili igri, sjajan je doživljaj – tako nastaju trenuci koji se dugo pamte. Sve su osmišljene tako da pruže nenadmašne performanse u svjetskim razmjerima, neusporedivo upravljanje i vrhunsku udobnost – uz ekonomičnost i pouzdanost.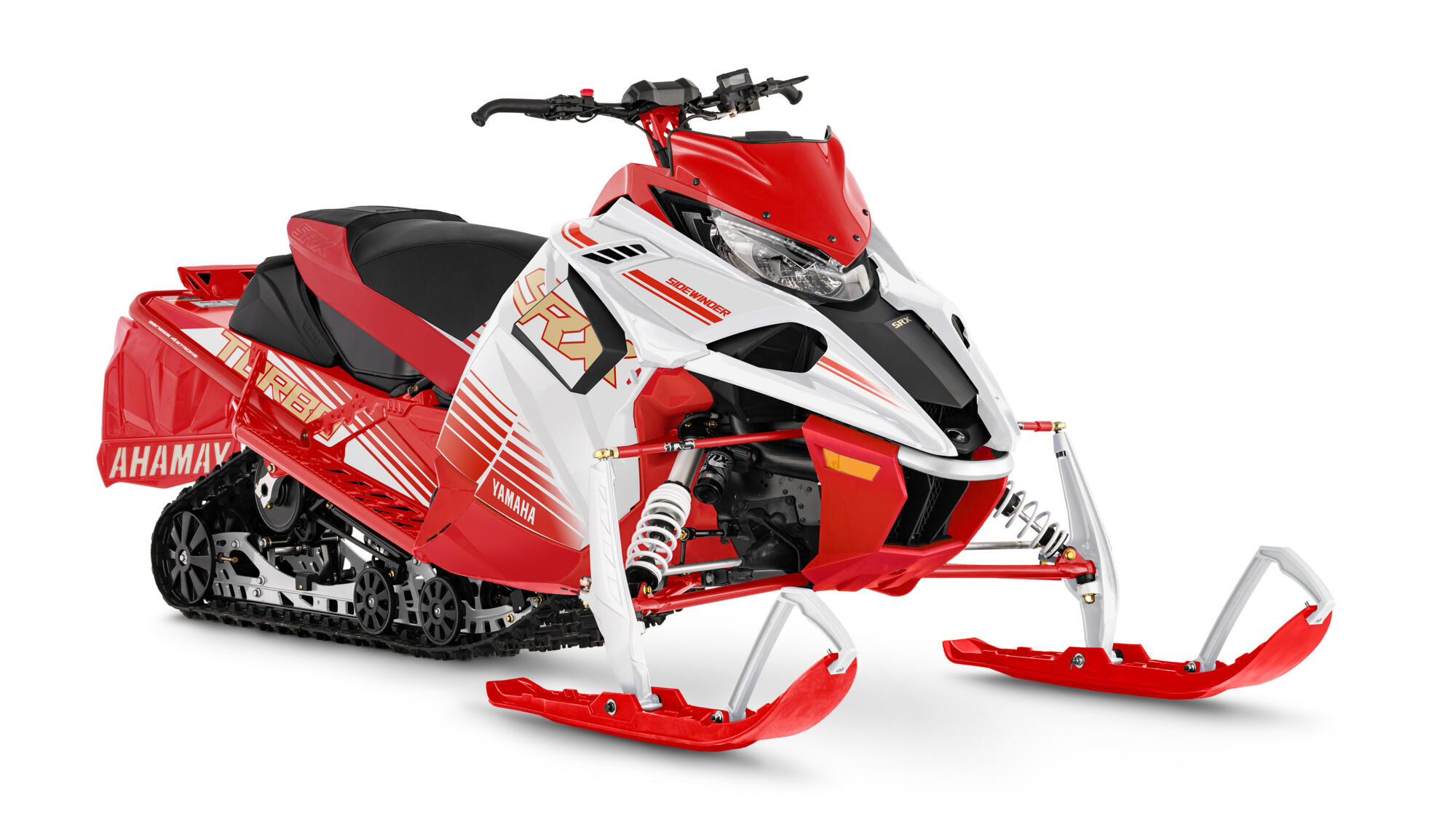 Ovu si stavku već dodao. U svojoj košarici za kupnju možeš prilagoditi količinu.
Proizvod je dodan u tvoju košaricu
This item is not compatible with the Yamaha you selected.
There are no required parts.