Ténéré 700
When you're riding the Ténéré 700, your future can be whatever you want it to be. Because this is a go-anywhere motorcycle than enables you to live life without limits, and experience a new feeling of total freedom.
Build your dream Ténéré 700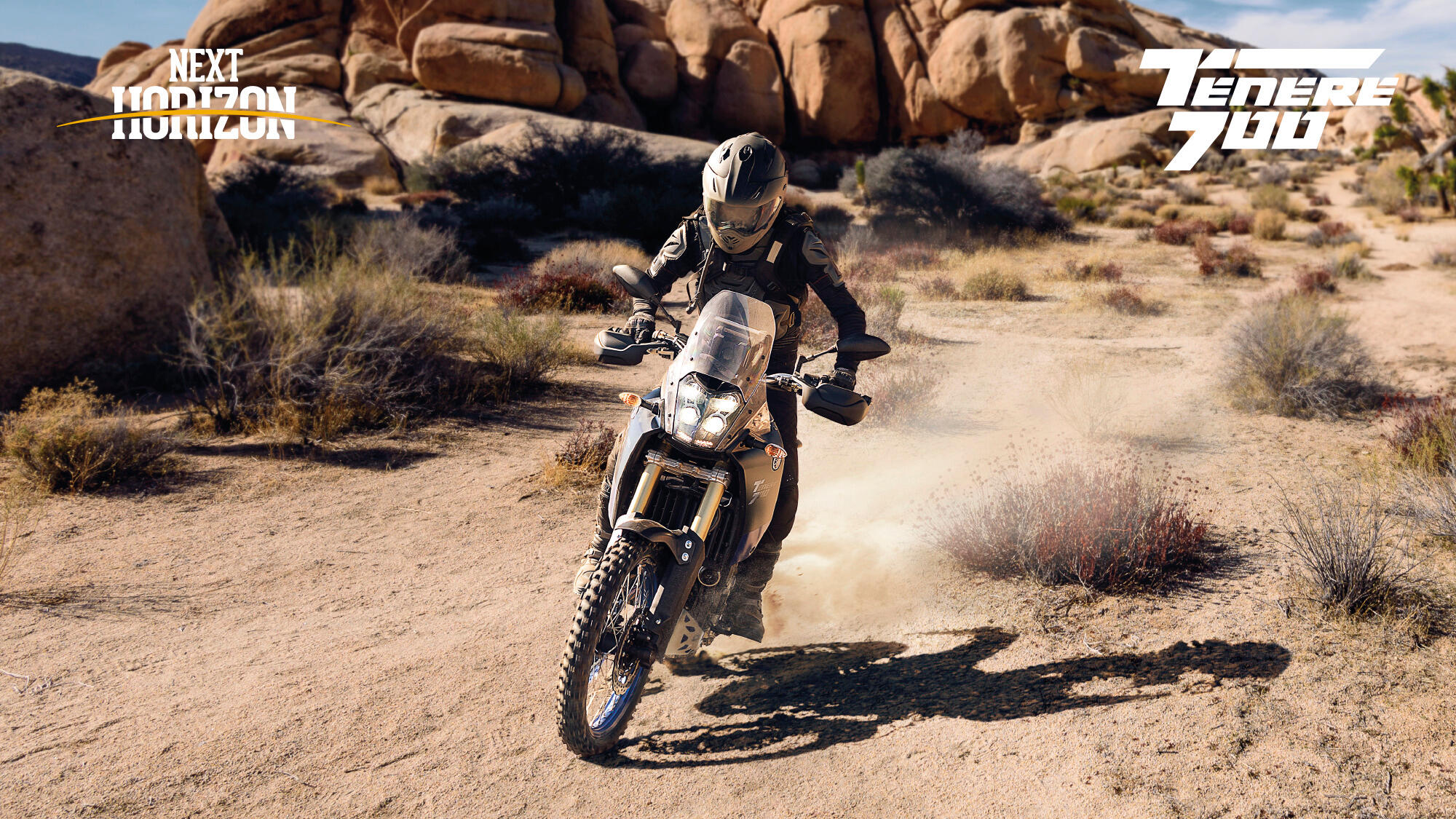 The Next Horizon is Yours
Driven by a high-torque 689cc 2-cylinder EU5-compliant engine equipped with a special optimised transmission that gives you the ideal balance of power and control, this rally-bred long distance adventure bike is built to master a wide range of riding conditions on the dirt or asphalt.
The compact tubular chassis and slim bodywork offer maximum agility during stand up or sit down riding – and long travel suspension and spoked wheels give you the ability to get to anywhere you want. Just fill up and go. The Next Horizon is Yours.
At a glance
High torque, 689cc, 4-stroke CP2 EU5-compliant engine
Lightweight double cradle tubular steel frame
Slim, compact and ergonomic body and seat
Aggressive rally-bred face with 4-LED headlights
Adjustable long-travel 43mm upside down forks
Remotely adjustable rear suspension
Rally style cockpit with tapered handlebars
21-inch/18-inch spoked wheels with adventure tyres
Slim long-range fuel tank with 16-litre capacity
Compact rally-style multi-function instruments
Switchable ABS for on the fly adjustment
Screen and handguards give good rider protection
Full Features & Techspecs
Full pricing information
Ténéré 700 Ceramic Ice
€10.499,00
Η τιμή συμπεριλαμβάνει 19% ΦΠΑ, κόστος εγγραφής, άδειας κυκλοφορίας, πινακίδας, προετοιμασίας και παράδοσης σε εξουσιοδοτημένο κατάστημα της ΥΑΜΑΗΑ Κύπρου.
Ténéré 700 Competition White
€10.499,00
Η τιμή συμπεριλαμβάνει 19% ΦΠΑ, κόστος εγγραφής, άδειας κυκλοφορίας, πινακίδας, προετοιμασίας και παράδοσης σε εξουσιοδοτημένο κατάστημα της ΥΑΜΑΗΑ Κύπρου.
Ténéré 700 Power Black
€10.499,00
Η τιμή συμπεριλαμβάνει 19% ΦΠΑ, κόστος εγγραφής, άδειας κυκλοφορίας, πινακίδας, προετοιμασίας και παράδοσης σε εξουσιοδοτημένο κατάστημα της ΥΑΜΑΗΑ Κύπρου.