Sale
New
Pay with credit card (Mastercard, VISA)
Request information via your dealer about your items
3 to 5 business days delivery (Mon-Fri)
Free pickup at a Yamaha dealer
You have already added this item. You can adjust the quantity in your shopping cart.
Optional parts
Multiple optional parts are available to help you mount this part on your . Do your want to add these optional parts to your shopping cart?
Selected optional parts: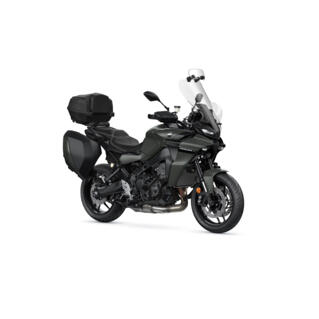 TRACER 9 Travel Pack Pro
b5u-fvptp-r0-03
£3,281.60
Optional parts which will be added
£3,281.60
Continue
The product has been added to your cart
PRODUCT_ADDED_TO_CART_UNIT_NOT_COMPATIBLE
PRODUCT_ADDED_TO_CART_NO_REQUIRED_PARTS
Search for your Yamaha
No results
Select model
No results
Select a Yamaha model to see if there are required parts.
NO_PARTS_FOR_SELECTED_UNIT
Selected Yamaha
The ultimate Travel gear for your TRACER 9 to hit the road in full functional style. The High screen, Heated Grips and Heated Comfort Seat provide extra comfort for those long endless roads. Just in case, you need even more wind protection, the Travel pack pro also has the Add on Screen to nest you more comfortably. The Side Cases and the Top Case give you the perfect tools to take your belongings along with you on your endeavours. Charge your phone or GPS easily with the USB Charger, while you can keep an eye on your tyre pressure with the Tyre Pressure Monitoring tool. The pack also has a dedicated GPS stay to help you clamp your GPS securely. The Side Stand Extension gives your motorcycle more stability on any surface when parked, the Radiator Guard protects your radiator against those pesky stones and loose gravel that are in your trail, while the Engine guard gives protection against unintended falls. The LED Fog Lights increase visibility in bad weather conditions for optimal safety. While you enjoy your ride, we made sure your passenger is pampered as well. They will enjoy the comfort of the Passenger Comfort Seat and the Backrest.