Sale
New
Pay with credit card (Mastercard, VISA)
Free returns within 14 days
3 to 5 business days delivery (Mon-Fri)
Free pickup at a Yamaha dealer
You have already added this item. You can adjust the quantity in your shopping cart.
Optional parts
Multiple optional parts are available to help you mount this part on your UMX AC. Do your want to add these optional parts to your shopping cart?
Selected optional parts: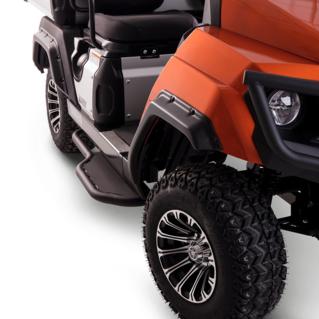 UMAX deFender Jr.
j0g-f15e0-v0-00
£176.00
Optional parts which will be added
£176.00
Continue
The product has been added to your cart
This item is not compatible with the Yamaha you selected.
There are no required parts.
Defend yourself and your UMAX against mud, water and debris with this four-piece fender kit. This kit is made of highly durable materials and integrates perfectly with the hard-work-ready look and feel of your UMAX.

Durable, textured surface
Extends fender by 1.5
Matches UMAX grille, dash, bed cover, beverage holder colour
Drilling of fenders required for installation
Constructed of tough HMWPE plastic
Mounts with TUFLOK® rivets for secure attachment