Sale
New
Pay with credit card (Mastercard, VISA)
Free returns within 14 days
3 to 5 business days delivery (Mon-Fri)
Free pickup at a Yamaha dealer
You have already added this item. You can adjust the quantity in your shopping cart.
Optional parts
Multiple optional parts are available to help you mount this part on your MT-03. Do your want to add these optional parts to your shopping cart?
Selected optional parts: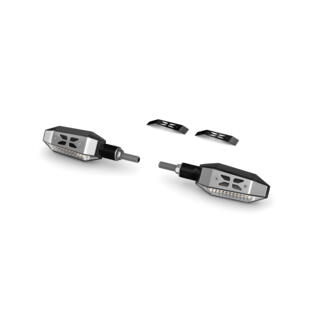 LED Flashers Plus Front
yme-flb2f-10-00
£95.50
Optional parts which will be added
£95.50
Continue
The product has been added to your cart
This item is not compatible with the Yamaha you selected.
There are no required parts.
Stylish front flashers with integrated position light. *Disclaimer: In order to comply with laws and regulations, including the Directive 2009/67/EC, it is not allowed to use the extra functionality, position light, in combination with the existing position light.

Flashers for the front and rear are sold separately
Includes flasher speed regulating resistors
High quality material and finish
Includes quick mounting connectors
Includes black and silver plates to finish the styling of your Yamaha to your liking
Fully E-homologated
Additional safety on the road thanks to position lights
Sold per set of two
Can be combined with the optional LED Flashers Plus Rear
Disclaimer

The use of the position light function of these accessories in combination with the motorcycle's existing position light is not allowed in order comply with laws and regulations including Directive 2009/67/EC. Please consult your local Yamaha dealer.