Sale
New
Pay with credit card (Mastercard, VISA)
Free returns within 14 days
3 to 5 business days delivery (Mon-Fri)
Free pickup at a Yamaha dealer
You have already added this item. You can adjust the quantity in your shopping cart.
Additional parts required
To mount this part on your MT-09 you will need several parts. <br/> Would you also like to add these extra parts to your shopping cart?
Selected by you: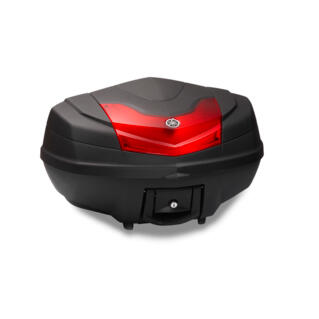 50 L Top Case City
34b-f84a8-10-00
£233.00
Parts being added
£233.00
Continue
The product has been added to your cart
This item is not compatible with the Yamaha you selected.
There are no required parts.
Quality top case for extra luggage/storage capacity on your Yamaha.

Exclusively designed for Yamaha Motor by ELM Design Europe
Can hold two (full face) helmets or riding gear
Available in Matt Black case and with lid side panels in a fixed number of unit matching colours
Whenever desired, you can swap the lid side panels into a colour of your own taste
Combine it with the optional 50L Top Case Inner Bag and 50L Top Case Passenger Backrest for extra convenience and comfort.
Disclaimer

Please note - the Top Case is a stand-alone product and it is not recommended that it is installed and used with the available optional available Yamaha Side Cases