Off-road adventures begin here.
At just 39 kg, this lightweight and compact mini-bike is the ideal way for your child to have hours of fun while developing their riding skills.
At a glance
Lightweight handling and compact dimensions
Simple throttle limiter assures parental control
Separate 2-stroke oil tank for ease of use
Yamaha design, quality and reliability
Reliable shaft drive for reduced maintenance
50cc 2-stroke engine with fully-automatic gearbox
Full Features & Techspecs
PW50
Every parent wants to give their kids the best things in life. And there's no better way for your child to start out on two powered wheels than with the PW50. Yamaha have led the way in mini-bike design and manufacture for over 25 years, and a closer look at any of our junior bikes shows why we're still the leading choice. Aimed at complete beginners, the 'twist-and-go' PW50 benefits from a range of safety features and rider-friendly designs which make it the ideal choice for new riders. And with its low-maintenance technology backed up by Yamaha quality and reliability, this stylish mini-bike is so easy to own and maintain.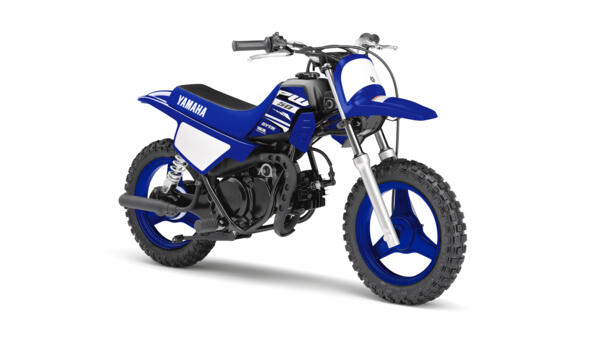 From £1,399.00
Full pricing information
PW50 Racing Blue
£1,399.00
All prices include preparation charges, delivery to dealer, pre-delivery inspection, petrol, number plate (where applicable) and VAT at 20%. Where required, Government first registration fee and Vehicle Excise Duty is excluded and will be charged additionally at the prevailing rate.