Sale
New
Pay with credit card (Mastercard, VISA)
Free returns within 14 days
3 to 5 business days delivery (Mon-Fri)
Free pickup at a Yamaha dealer
You have already added this item. You can adjust the quantity in your shopping cart.
Additional parts required
To mount this part on your XMAX 125 you will need several parts. <br/> Would you also like to add these extra parts to your shopping cart?
Selected by you: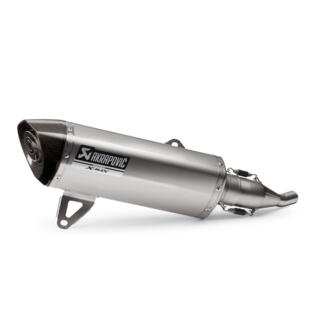 Slip-on Muffler Titanium
90798-33491-00
£536.00
Parts being added
£536.00
Continue
The product has been added to your cart
This item is not compatible with the Yamaha you selected.
There are no required parts.
Enhance the coolness of your Yamaha!

Made of high quality, heat resistant stainless steel
Features exclusive XMAX logo
Sophisticated design enhances the looks of your Yamaha
Creates an exciting sound
Street legal only with the optional catalytic convertor installed
Disclaimer

This is a non Yamaha branded product and is fully developed and produced by Akrapovič.