Sale
Novi
Ovu si stavku već dodao. U svojoj košarici za kupnju možeš prilagoditi količinu.
Opcijski dijelovi
Više opcijskih dijelova je dostupno da bi lakše ugradili artikl na vaš Kodiak 700 EPS. Želite li dodati navedene dijelove u košaricu?
Odabrani opcijski dijelovi: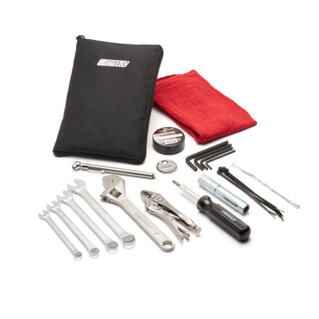 Metric Tool Kit
aba-metrc-00-00
Opcijski dijelovi koji će biti dodani
Nastavi
Proizvod je dodan u tvoju košaricu
This item is not compatible with the Yamaha you selected.
There are no required parts.
Pojedinosti proizvoda

Comprehensive tool set that prepares you for just about anything the road will throw at you..

Includes ring, open end spanners 8, 10, 12 & 14, adjustable spanner, vice grips, 4 way Phillips, flat screw driver, sparkplug spanner and plu gap guage
Includes also a roll of black electricall tape, tyre pressure gauge, cable ties, wire, rag and #3, 4, 5 & 6 Allen keys
Comes in a compact roll-up pouch
Can easily be stowed away in your saddlebag, side case, top case, etc.