Sale
Novi
Replika stražnjeg kotača iz serije MXGP (2,15'' x 19'')
Ovu si stavku već dodao. U svojoj košarici za kupnju možeš prilagoditi količinu.
Potrebni dodatni dijelovi
Da bi ugradili sljedeće na vaš potrebni su sljedeći dijelovi. Želite li dodati potrebne dijelove u košaricu?
Odabrali ste: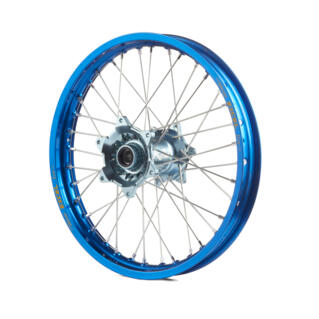 Replika stražnjeg kotača iz serije MXGP (2,15'' x 19'')
5xc-f2050-9r-p1
Dijelovi koji će biti dodani
Nastavi
Proizvod je dodan u tvoju košaricu
This item is not compatible with the Yamaha you selected.
There are no required parts.
Potražite svoj Yamaha model
Nema rezultata
Odaberi model
Nema rezultata
Select a Yamaha model to see if there are required parts.
NO_PARTS_FOR_SELECTED_UNIT
Odabrana Yamaha
Pojedinosti proizvoda

Kotači izrađeni za prvake! Jedinstveni stražnji kotač visokih performansi tvrtke Kite kakav koriste Yamahini tvornički trkaći timovi.

Potpuno sastavljen kotač
Brtvama zatvoreni ležajevi tvrtke KOYO
Naplatak s potpisom Takasago EXCEL
Krakovi Alpina
Glavčina izražena CNC strojem iz jednog komada aluminija 6082
Ugrađene brtve
Dva ležaja na strani zupčanika
Manja težina zahvaljujući umetku za ležaj od teflona