Sale
Novi
"Racing" sustav ispuha od titanija
Ovu si stavku već dodao. U svojoj košarici za kupnju možeš prilagoditi količinu.
Opcijski dijelovi
Više opcijskih dijelova je dostupno da bi lakše ugradili artikl na vaš . Želite li dodati navedene dijelove u košaricu?
Odabrani opcijski dijelovi: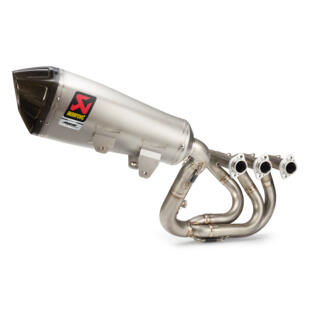 "Racing" sustav ispuha od titanija
90798-33601-00
Opcijski dijelovi koji će biti dodani
Nastavi
Proizvod je dodan u tvoju košaricu
This item is not compatible with the Yamaha you selected.
There are no required parts.
Potražite svoj Yamaha model
Nema rezultata
Odaberi model
Nema rezultata
Select a Yamaha model to see if there are required parts.
NO_PARTS_FOR_SELECTED_UNIT
Odabrana Yamaha
Pojedinosti proizvoda

Sustav osigurava više snage i smanjuje težinu sukladno zahtjevima za utrke

brza ugradnja
dugi interval održavanja
jednostavno održavanje sa zamjenskim omotima kao što je za MX prigušivač
smanjenje težine od 5kg
povećanje snage
samo za upotrebu u natjecanjima
Disclaimer

Proizvod ne nosi oznaku tvrtke Yamaha i u potpunosti ga je razvila i proizvela tvrtka Akrapovič.