Sale
Novi
TRACER 9 Travel Pro Paket
Ovu si stavku već dodao. U svojoj košarici za kupnju možeš prilagoditi količinu.
Opcijski dijelovi
Više opcijskih dijelova je dostupno da bi lakše ugradili artikl na vaš . Želite li dodati navedene dijelove u košaricu?
Odabrani opcijski dijelovi: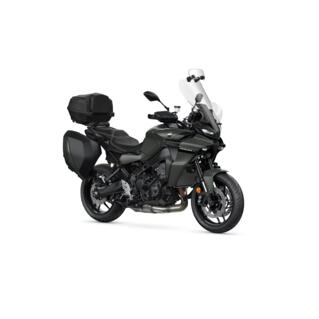 TRACER 9 Travel Pro Paket
b5u-fvptp-r0-03
Opcijski dijelovi koji će biti dodani
Nastavi
Proizvod je dodan u tvoju košaricu
This item is not compatible with the Yamaha you selected.
There are no required parts.
Potražite svoj Yamaha model
Nema rezultata
Odaberi model
Nema rezultata
Select a Yamaha model to see if there are required parts.
NO_PARTS_FOR_SELECTED_UNIT
Odabrana Yamaha
Pojedinosti proizvoda

Vrhunska oprema za putovanje za vaš model TRACER 9 kako biste putovali u potpuno funkcionalnom stilu. Visoki vjetrobran, grijane ručke i grijano udobno sjedalo osiguravaju dodatnu udobnost na onim dugim beskrajnim cestama. Za svaki slučaj, ako trebate još veću zaštitu od vjetra, profesionalni paket za putovanje također ima dodatak vjetrobrana kako biste ugodno putovali. Bočni i gornji koferi nude puno prostora za nošenje stvari na putovanje. Jednostavno punite telefon ili GPS uređaj s pomoću USB-punjača, dok istodobno možete paziti na tlak u gumama s pomoću alata za praćenje tlaka u gumama. Paket također ima namjenski stalak za GPS uređaj koji će vam pomoći da ga sigurno pričvrstite. Proširenje bočne nogare osigurava motociklu veću stabilnost na bilo kojoj površini kada je parkiran, štitnik hladnjaka štiti od kamenčića i prljavštine koja se nalaze na cesti dok štitnik agregata pruža zaštitu u slučaju pada. LED svjetla za maglu povećavaju vidljivost pri lošim vremenskim uvjetima radi optimalne sigurnosti. Dok uživate u vožnji, pobrinuli smo se da ugodimo i vašem suputniku. Uživat će u udobnom sjedalu i naslonu za suputnika.