Ténéré 700
Kada vozite model Ténéré 700, sami određujete kako će vaša budućnost izgledati. Ovo je motocikl s kojim možete ići baš svugdje, koji vam omogućuje da živite bez ograničenja i doživite novu razinu potpune slobode.
Sastavi svoj san Ténéré 700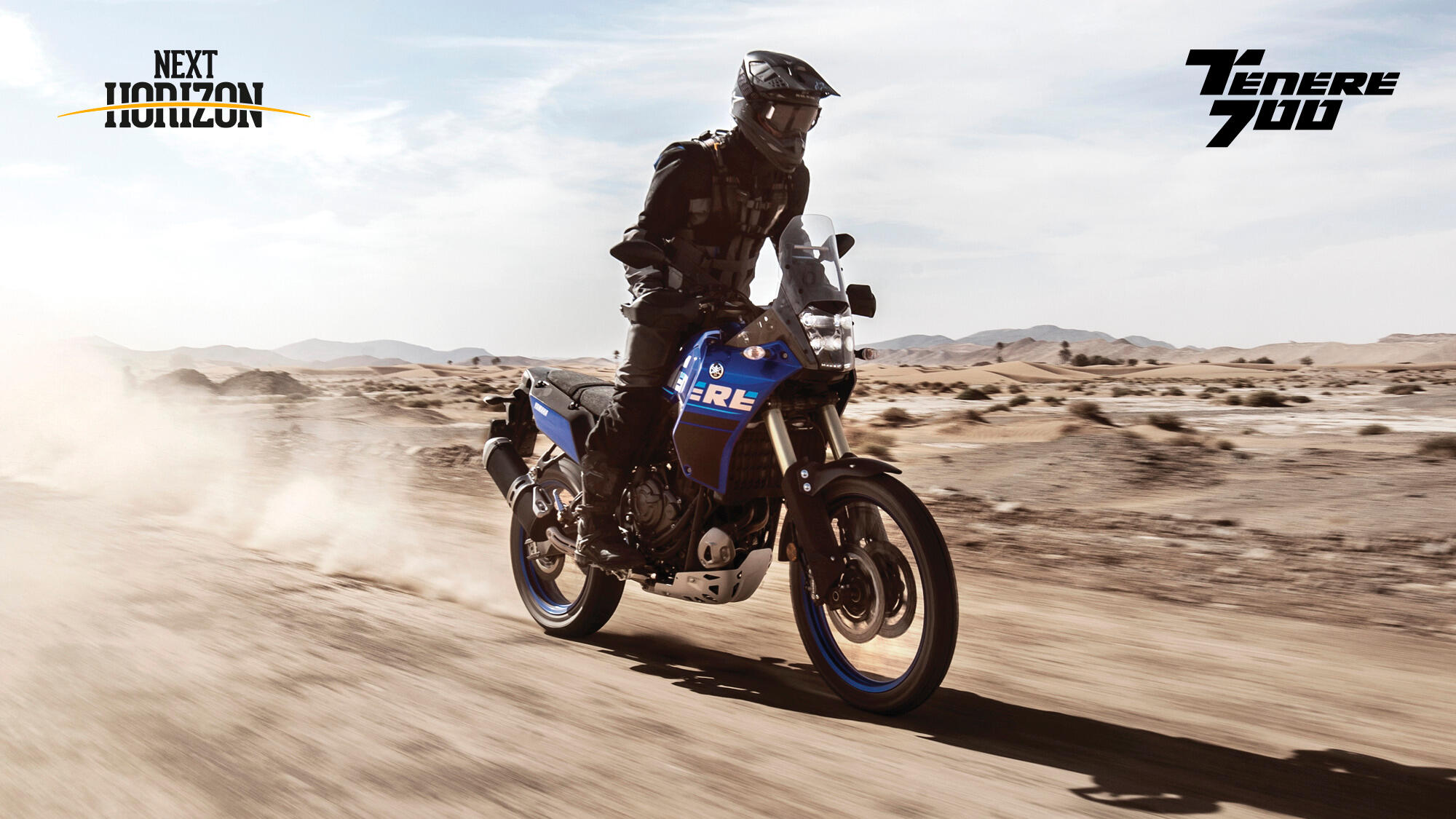 Zavirite iza sljedećeg horizonta
Opremljen dvocilindričnim agregatom zapremnine 690 ccm, usklađenim s propisom EU5, koji ima veliki zakretni moment i posebno optimizirani mjenjač koji pruža savršen spoj snage i kontrole, ovaj pustolovni motocikl za duge staze, dizajniran po uzoru na motocikle za reli, izrađen na način da se može prilagoditi širokom rasponu uvjeta vožnje na blatnim terenima i na asfaltu.
Kompaktno cjevasto podvozje i tanka konstrukcija pružaju maksimalnu okretnost tijekom vožnje u stajaćem ili sjedećem položaju, a zahvaljujući ovjesu za duge vožnje i kotačima sa žbicama možete krenuti gdje poželite. Jednostavno napunite gorivo i krenite. Zavirite iza sljedećeg horizonta.
Kratki pregled
Veliki okretni moment, 690 ccm, 4-taktni CP2 agregat usklađen s propisom EU5
Lagani cijevasti čelični okvir dvostrukih greda
Tanki, kompaktni, ergonomski oklop i sjedalo
Robusni izgled motocikla s 4 LED fara po uzoru na modele za reli
Podesive "upside down" vilice od 43 mm za duga putovanja
Daljinski podesiv stražnji ovjes
Kokpit sa suženim upravljačima po uzoru na motocikle za reli
21-inčni / 18-inčni kotači sa žbicama s avanturističkim gumama
Uski spremnik goriva zapremine od 16 litara za duga putovanja
Kompaktni multifunkcijski instrumenti po uzoru na motocikle za reli
ABS sustav na uključivanje za podešavanja u pokretu
Vjetrobran i štitnici za ruke za dobru zaštitu vozača
Ukupne značajke i tehničke specifikacije
Ovu si stavku već dodao. U svojoj košarici za kupnju možeš prilagoditi količinu.
Proizvod je dodan u tvoju košaricu
This item is not compatible with the Yamaha you selected.
There are no required parts.