Ténéré 700 Rally Edition
Kada je 1979. g. održan prvi reli Dakar, Yamahinu modelu XT pružena je prilika da se dokaže u najtežoj utrci na svijetu. Vozači modela XT osvojili su ovaj legendarni događaj '79. i '80. g., a time je 1983. g. nadahnut razvoj izvornog modela Ténéré – legendarnog Yamahinog avanturističkog motocikla koji je promijenio svijet motociklizma.
Sastavi svoj san Ténéré 700 Rally Edition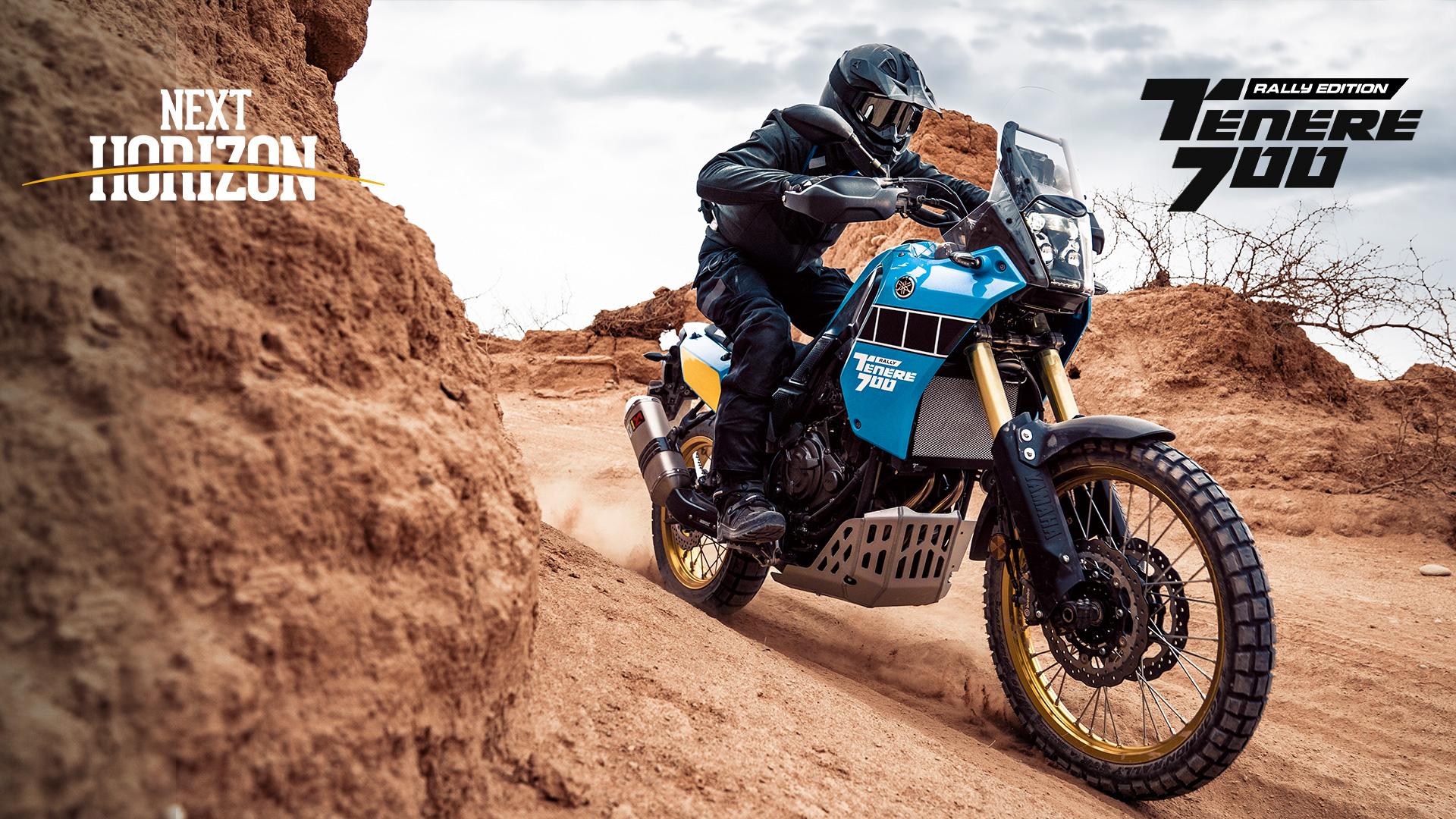 Vozite legendu
Četrdeset godina nakon toga, Yamaha Ténéré 700 privukla je pozornost nove generacije vozača koji žele otkriti što se nalazi iza horizonta. Novo izdanje Yamahinog modela Ténéré 700 Rally Edition za 2020. g. isporučuje se u bojama prethodnih modela i još boljim standardnim značajkama.
Uz plavo-žute trkaće boje, grafike "speedblock" i naplatke u zlatnoj boji, Ténéré 700 Rally Edition odaje počast tvorničkim motociklima kojima su se utrkivali heroji Dakra – Jean-Claude Olivier i Serge Bacou. Zahvaljujući vrhunskim komponentama i čistoj DNK modela Ténéré, ovo je Yamahin vrhunski pustolovni motocikl srednje kategorije.
Kratki pregled
LED pokazivači smjera
Reli boje prethodnika
Namjensko reli sjedalo
Ispušni top tvrtke Akrapovič
Čvrsta ploča za zaštitu agregata
Štitnik hladnjaka
Zaštita za lanac
Štitnici
Ručke za terensku vožnju
4-taktni CP2 motor od 689 ccm s velikim zakretnim momentom
Lagani cijevasti čelični okvir dvostrukih greda
Tanki, kompaktni, ergonomski oklop i sjedalo
Ukupne značajke i tehničke specifikacije
Ténéré 700 Rally Edition
Izvorni model Ténéré pomogao je da Yamaha bude najuspješnija marka na Dakru, a modeli XT osvajaju 18 podija u prvih 6 izdanja najteže utrke na svijetu. Čista trkaća DNK koja je pokorila pustinju prošla je nekoliko generacija i razvojni put do novog modela Yamaha Ténéré 700 Rally Edition. I to pokazuje.
Ovu si stavku već dodao. U svojoj košarici za kupnju možeš prilagoditi količinu.
Proizvod je dodan u tvoju košaricu
This item is not compatible with the Yamaha you selected.
There are no required parts.