Tricity 125
Mnogi od nas bježe od gužvi u sustavima javnog prijevoza – a uz rastuće troškove goriva i naplate gradskih cestovnih površina, putovanje automobilom nije uvijek realističan prijedlog. Stoga nikada nije bilo bolje vrijeme da vidite kako vam model Tricity 125 može pružiti potpunu slobodu u gradu.
Sastavi svoj san Tricity 125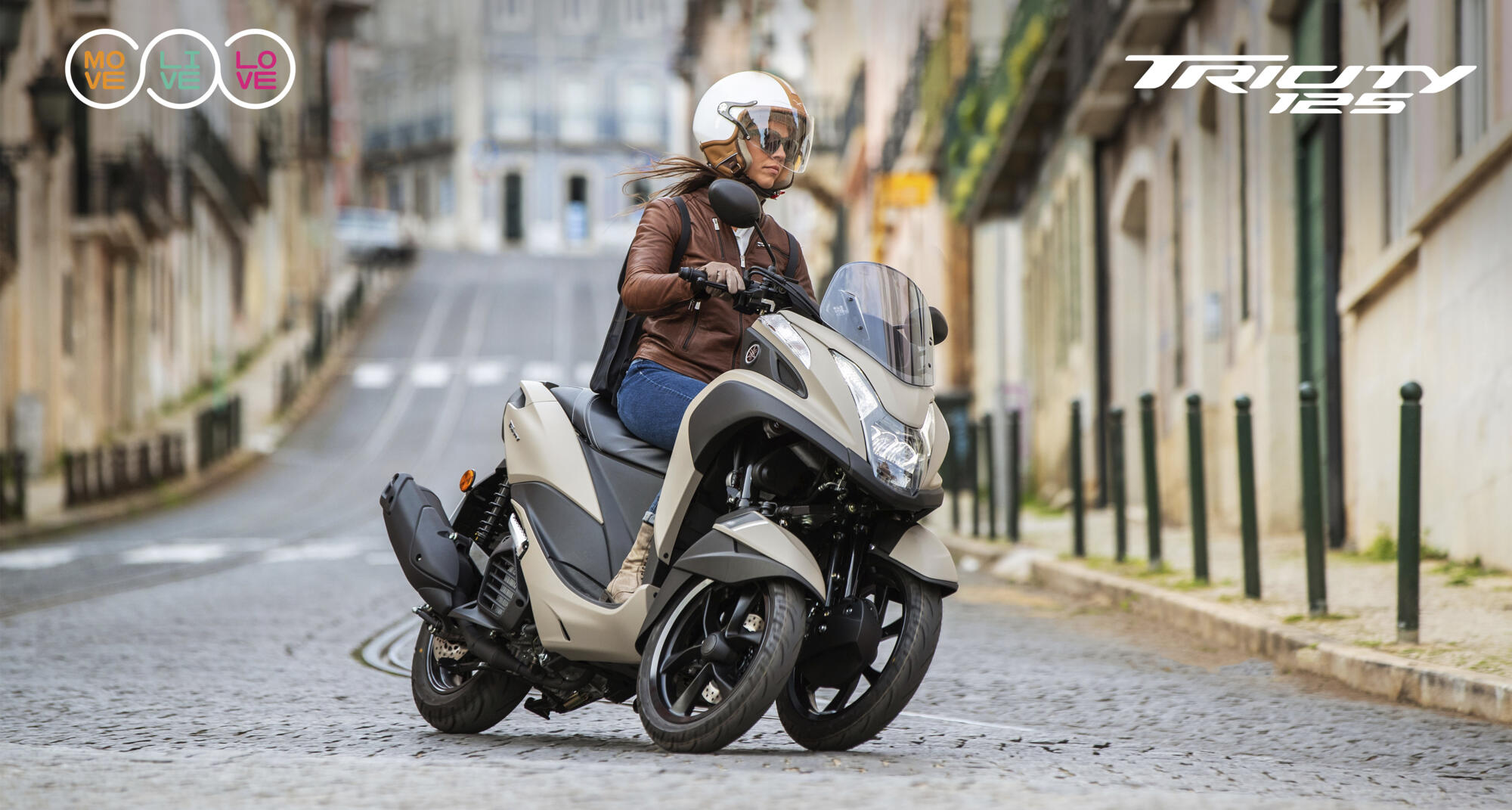 Volim način na koji se krećem.
Ovaj suvremeni skuter s 3 kotača pogoni najnoviji agregat Blue Core zapremnine 125 ccm koji udovoljava normi EURO5 i ima novi sustav Stop & Start te pruža živahne performanse uz dojmljivu ekonomičnost goriva. Njegovi dvostruki prednji kotači koji se naginju daju vam osjećaj stabilnosti i samopouzdanja u zavojima – a budući da je za vožnju potrebna dozvola za upravljanja B kategorije*, kretanje modelom Tricity 125 vrlo je jednostavno! (*Ograničenja se mogu primjenjivati ovisno o zemlji u skladu s mjerodavnim zakonima. Osim toga, Yamaha preporučuje svim vozačima da prođu tečaj osposobljavanja za vožnju motocikla prije vožnje nekog od vozila s dva ili tri kotača.)
Njegovo novo podvozje s poboljšanim stražnjim ovjesom i većom površinom podnice osigurava najvišu razinu udobnosti u vožnji – a uz nove povezane LCD instrumente u stvarnom vremenu možete pregledavati obavijesti o dolaznim pozivima, društvenim mrežama, e-pošti i tekstovima preuzimanjem Yamahine besplatne aplikacije MyRide. Tricity 125: Volim način na koji se krećem.
Kratki pregled
Novi agregat Blue Core zapremnine 125 ccm koji udovoljava normi EURO5
Optimiziran raspored 3 kotača
Novo podvozje za veću udobnost
Start & Stop tehnologija
Novorazvijeni stražnji ovjes s dva amortizera
Prednje i stražnje disk kočnice s optimiziranim objedinjenim sustavom kočenja (UBS)
Novi LCD instrumenti koji se mogu povezati s pametnim telefonom
Rukovanje sustavom Smart Key bez ključa
Veća površina podnice
LED glavno svjetlo sa širim svjetlosnim snopom
Spremište ispod sjedala i prednji džep
Ukupne značajke i tehničke specifikacije
Tricity 125
Tricity 125 tako je privlačan širokom krugu kupaca jer je jedini skuter na 3 kotača u klasi od 125 ccm – što ga čini najlakšim i najokretnijim vozilom za kretanje gradom ove vrste. Ovo prijevozno sredstvo jednostavno se upotrebljava i dizajnirano je da unese pravi osjećaj samopouzdanja u vožnji i povećani osjećaj stabilnosti koji ga čini idealnim za svakog.
Ovu si stavku već dodao. U svojoj košarici za kupnju možeš prilagoditi količinu.
Proizvod je dodan u tvoju košaricu
This item is not compatible with the Yamaha you selected.
There are no required parts.