Snaga turbo punjenja. Za uglađeno osvajanje novih visina.
Vrhunski model iz naše nove serije Sidewinder performansama ispunjava izgledom obećano. Revolucionarni agregat s turbo punjenjem Genesis 180, zapremnine 998 ccm, isporučuje nevjerojatnu snagu i okretni moment neovisno o nadmorskoj visini ili uvjetima. Dodali smo mu oklop, ovjes te dizajn gusjenica i skija napredne serije Mountain i dobili uistinu impresivan i zabavan stroj.
Standardom je obuhvaćena i brojna druga luksuzna oprema poput potpune ergonomije klase Mountain, hoda unatrag, električnog pokretanja i grijača za šaku/palac.
Kratki pregled
Novi 4-taktni 3-cilindrični agregat Genesis® 180 zapremnine 998 ccm
Novi Yamaha jedinstveni sustav turbo punjenja
Upečatljiva nova posebna shema boja i grafike
Veliki okretni moment na niskim okretajima za upravljanje na dubokom snijegu
Tanak i lagan okvir "Mountain"
Poseban "uski" dizajn prednjeg ovjesa serije Mountain
Yamahine nove široke skije s jednim trupom serije Mountain
MTN Float Action – aluminijski VT plinski/Fox float® 3
Gusjenice sa spojnicama Camoplast® Power Claw od 3,0''/76 mm
Upravljanje grijačima za drške i palčeve pomoću dva prekidača
Praktično električno pokretanje i prekidač za hod unatrag
Dva digitalna mjerača i elegantni vjetrobran
Ukupne značajke i tehničke specifikacije
Sidewinder M-TX SE 162
Provođenje vremena na utrtim stazama ili na mekom snijegu poseban je životni doživljaj – tako nastaju trenuci koje dugo pamtite. Uživajte u našim motornim sanjkama. Sve su oblikovane i opremljene kako bi omogućile izvanredno rukovanje, performanse, udobnost, ekonomičnost i pouzdanost.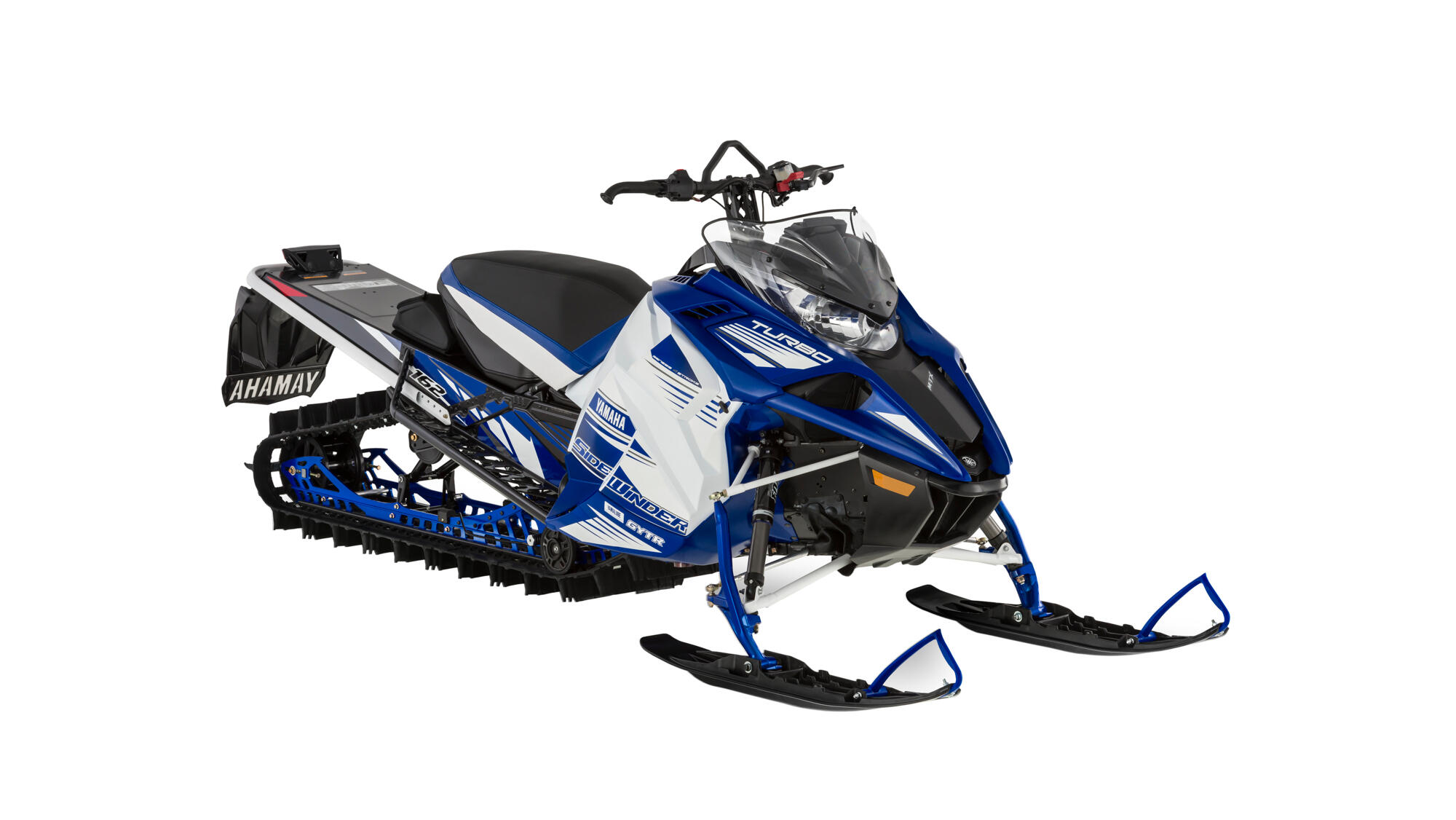 Ovu si stavku već dodao. U svojoj košarici za kupnju možeš prilagoditi količinu.
Proizvod je dodan u tvoju košaricu
This item is not compatible with the Yamaha you selected.
There are no required parts.