Sale
Nou
Kit de curse GYTR® Stage 1 – AF19-prezent
Aţi adăugat deja acest articol. Puteţi ajusta cantitatea în coşul de cumpărături.
Piese opţionale
Multiple optional parts are available to help you mount this part on your . Do your want to add these optional parts to your shopping cart?
Selected optional parts: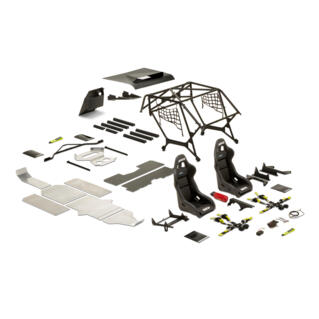 Kit de curse GYTR® Stage 1 – AF19-prezent
b5h-rally-kt-01
€ 607,06
Optional parts which will be added
€ 607,06
Continue
Produsul a fost adăugat în coş
This item is not compatible with the Yamaha you selected.
There are no required parts.
Cauta Yamaha ta
Niciun rezultat
Selecteaza modelul
Niciun rezultat
Select a Yamaha model to see if there are required parts.
NO_PARTS_FOR_SELECTED_UNIT
Modelul ales
Detalii produs

Kitul de curse GYTR® Stage 1 (AF19-prezent) include toate echipamentele obligatorii în baza reglementărilor FIA (Fédération Internationale de l'Automobile) T4 pentru vehiculele side-by-side. Echipat cu acest kit, YXZ1000R este pregătită să concureze în majoritatea competițiilor sub tutela Autorității Sportive Naționale și FIM. Datorită designului plug-and-play, nu sunt necesare suduri sau modificări ale șasiului. În combinație cu instrucțiunile de asamblare complete, acest lucru permite oricărui dealer de Yamaha SSV sau mecanic cu experiență să finalizeze montajul în aproximativ 16 ore. Kitul de curse GYTR deschide o nouă lume de curse de raliu și oferă o bază solidă pentru îmbunătățirea suplimentară a aptitudinilor și performanțelor vehiculelor, atât pentru piloții debutanți, cât și pentru cei cu experiență. Acest kit Stage 1 este dezvoltat pentru modelele cu radiator montat în spate și este adecvat pentru modelele YXZ1000R începând cu AF2019. Kitul conține:

Cutie de siguranță certificată FIA, fixată cu șuruburi, vopsită cu negru
Scaune de curse Sparco EVO din material Skai ușor de curățat și în suporturi personalizate pentru scaune
Hamuri de siguranță în 6 puncte
Parasolar și protecție anti-foc din aluminiu, vopsite
Priză de aer montată în acoperiș pentru răcirea îmbunătățită a radiatorului
Suport roată de rezervă pentru 2 roți de schimb
Comutator principal de oprire a alimentării acționat electric
Cablaj cu panou de comutatoare și casetă de siguranțe pentru caracteristici suplimentare, pregătite să includă 7 funcții suplimentare, precum GPS, Intercom, lumini. (nu este inclus)
Plase pentru geamuri ferestre cu dimensiuni particularizate, pentru o potrivire perfectă
Apărători de noroi în față și în spate
Set scut de protecție din aluminiu de 4 mm
Set de scuturi de protecție din aluminiu de 6 mm pentru protecția zonei rezervorului de combustibil
Tunel arbore cardanic din oțel
Inele de remorcare față și spate
Cuttere centuri de siguranță
Capitonare cutie de siguranță
Extinctoare operate acționate (conforme cu FIA 8865-2015)
Instrucțiuni de asamblare pas cu pas, inclusiv șabloane
Bord copilot
Parte din spate sus a lămpii de siguranță cu LED
Autocolante de siguranță obligatorii FIA