Sale
Nou
Încărcător de baterie YEC-9
Aţi adăugat deja acest articol. Puteţi ajusta cantitatea în coşul de cumpărături.
Piese opţionale
Multiple optional parts are available to help you mount this part on your . Do your want to add these optional parts to your shopping cart?
Selected optional parts: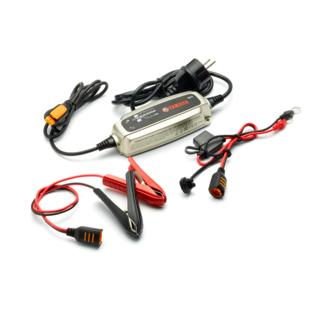 Încărcător de baterie YEC-9
yme-yec09-eu-20
€ 72,06
Optional parts which will be added
€ 72,06
Continue
Produsul a fost adăugat în coş
PRODUCT_ADDED_TO_CART_UNIT_NOT_COMPATIBLE
PRODUCT_ADDED_TO_CART_NO_REQUIRED_PARTS
Cauta Yamaha ta
Niciun rezultat
Selecteaza modelul
Niciun rezultat
Select a Yamaha model to see if there are required parts.
NO_PARTS_FOR_SELECTED_UNIT
Modelul ales
Detalii produs

Încărcător în 6 paşi care poate încărca bateria motocicletei, scooterului, ATV-ului, SMB-ului şi/sau produselor nautice Yamaha.

Ştecher european
Tehnologie unică de încărcare a bateriei. Încărcător cu mod de comutare complet automat, ce analizează starea bateriei, o încarcă şi comută automat la menţinerea încărcării după ce aceasta s-a realizat
Proiectat pentru siguranţă: protejat împotriva scânteilor, conexiunilor cu polaritate inversă şi scurtcircuitelor
Uşor şi compact; comod şi uşor de depozitat
Special testat și aprobat de inginerii de service Yamaha
Include funcţii pentru testarea şi întreţinerea bateriei
Identifică bateriile defecte
Asigură încărcarea completă, pentru a prelungi durata de viaţă a bateriei
Bazat pe platforma de încărcare premiată a companiei CTEK
Combinaţi-l cu conectorii rapizi YEC - bujia integrată în panoul de bord, indicatorul încărcătorului şi panoul de bord cu indicatori 150 - pentru citirea stării de încărcare a bateriei şi/sau pentru un acces mai uşor între bateria vehiculului dvs. Yamaha şi încărcătorul YEC-8