Sale
Nou
Încărcător de baterie YEC-9
Aţi adăugat deja acest articol. Puteţi ajusta cantitatea în coşul de cumpărături.
Piese opţionale
Multiple optional parts are available to help you mount this part on your YFZ50. Do your want to add these optional parts to your shopping cart?
Selected optional parts: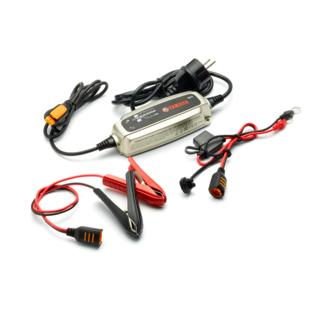 Încărcător de baterie YEC-9
yme-yec09-eu-20
€ 79,44
Optional parts which will be added
€ 79,44
Continue
Produsul a fost adăugat în coş
This item is not compatible with the Yamaha you selected.
There are no required parts.
Detalii produs

Încărcător în 6 paşi care poate încărca bateria motocicletei, scooterului, ATV-ului, SMB-ului şi/sau produselor nautice Yamaha.

Ştecher european
Tehnologie unică de încărcare a bateriei. Încărcător cu mod de comutare complet automat, ce analizează starea bateriei, o încarcă şi comută automat la menţinerea încărcării după ce aceasta s-a realizat
Proiectat pentru siguranţă: protejat împotriva scânteilor, conexiunilor cu polaritate inversă şi scurtcircuitelor
Uşor şi compact; comod şi uşor de depozitat
Special testat și aprobat de inginerii de service Yamaha
Include funcţii pentru testarea şi întreţinerea bateriei
Identifică bateriile defecte
Asigură încărcarea completă, pentru a prelungi durata de viaţă a bateriei
Bazat pe platforma de încărcare premiată a companiei CTEK
Combinaţi-l cu conectorii rapizi YEC - bujia integrată în panoul de bord, indicatorul încărcătorului şi panoul de bord cu indicatori 150 - pentru citirea stării de încărcare a bateriei şi/sau pentru un acces mai uşor între bateria vehiculului dvs. Yamaha şi încărcătorul YEC-8