Ténéré 700
Atunci când pilotezi modelul Ténéré 700, viitorul poate deveni orice îți dorești. Pentru că este o motocicletă pentru orice tip de teren care îți permite să trăiești viața fără limite și să simți libertatea totală.
Construiţi-vă propriul vis Ténéré 700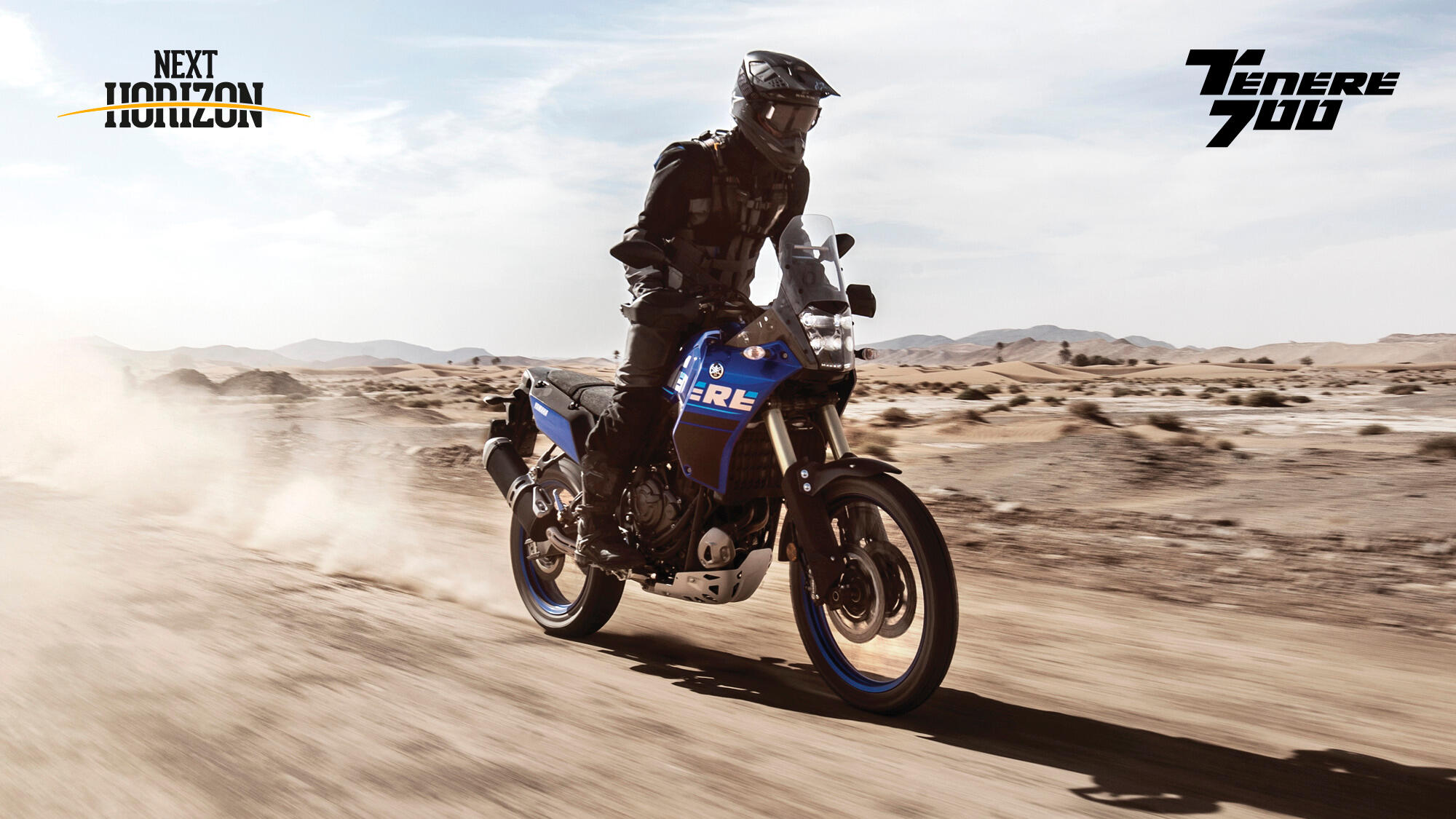 Orizontul îți aparține
Acționată de un motor EU5 în 2 cilindri, cu cuplu ridicat, de 690 cm3 și de o transmisie specială optimizată, care îi conferă echilibrul ideal între putere și control, această motocicletă de aventură, proiectată pentru distanțe lungi, în tradiția motocicletelor de raliu, este capabilă să facă față unor condiții de drum variate, de la pământ până la asfalt.
Cadrul tubular compact și carenajul suplu îi conferă agilitate maximă, atât atunci când o conduci în picioare, cât și din poziția șezut – iar suspensia și roțile cu spițe proiectate pentru drum lung îți permit să ajungi oriunde dorești. Fă plinul și pornește la drum. Orizontul îți aparține.
Dintr-o privire
Motor EU5 CP2 de 690 cm3, în 4 timpi, cu cuplu ridicat
Cadru din oțel tubular, ușor, cu ramă dublă
Caroserie şi şa subţiri, compacte şi ergonomice
Aspect agresiv, inspirat de modelele de raliu, cu faruri cu 4 LED-uri
Furca inversată, reglabilă, cu o cursă lungă, de 43 mm
Suspensie spate reglabilă la distanţă
Cockpit tip raliu, cu ghidon conic
Roţi cu spiţe de 21"/18", cu anvelope tip aventură
Rezervor de combustibil subţire, de 16 litri, pentru autonomie mare
Instrumente multifuncţionale compacte, tip raliu
Funcţie ABS comutabilă, pentru reglare în mers
Parbrizul şi apărătorile pentru mâini asigură o bună protecţie a pilotului
Caracteristici şi specificaţii tehnice complete
Aţi adăugat deja acest articol. Puteţi ajusta cantitatea în coşul de cumpărături.
Produsul a fost adăugat în coş
This item is not compatible with the Yamaha you selected.
There are no required parts.