Sale
Nou
Aţi adăugat deja acest articol. Puteţi ajusta cantitatea în coşul de cumpărături.
Piese opţionale
Multiple optional parts are available to help you mount this part on your MT-03. Do your want to add these optional parts to your shopping cart?
Selected optional parts: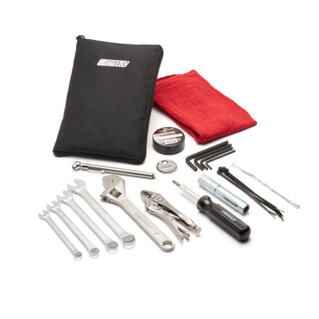 Trusă de scule metrică
aba-metrc-00-00
€ 112,06
Optional parts which will be added
€ 112,06
Continue
Produsul a fost adăugat în coş
This item is not compatible with the Yamaha you selected.
There are no required parts.
Detalii produs

Set de scule cuprinzător care vă pregăteşte pentru aproape orice provocare întâmpinată de-a lungul drumului.

Include chei inelare, chei fixe cu cap deschis 8, 10, 12 şi 14, cheie reglabilă, menghine, cheie Phillips cu 4 căi, şurubelniţă plată, cheie pentru bujii şi calibru tampon
Include, de asemenea, o rolă de bandă electrică neagră, manometru de control al presiunii pneurilor, coliere de ataşare a cablurilor, cablu, o bucată de pânză şi imbusuri de 3, 4, 5 şi 6
Sunt livrate într-o husă compactă pliabilă
Poate fi depozitată cu uşurinţă în geanta de şa, portbagajul lateral, cutia de bagaje superioară etc.