R125
La fel ca fiecare motocicletă premium din seria R, modelul R125 este inspirat direct de motocicletele de curse de serie YZR-M1, care domină în mod regulat podiumul în MotoGP. În plus, același ADN de curse care oferă piloților Yamaha avantajul de a câștiga pe pistă, este cel care permite modulului R125 să fie motocicleta perfectă pe șosea.
Construiţi-vă propriul vis R125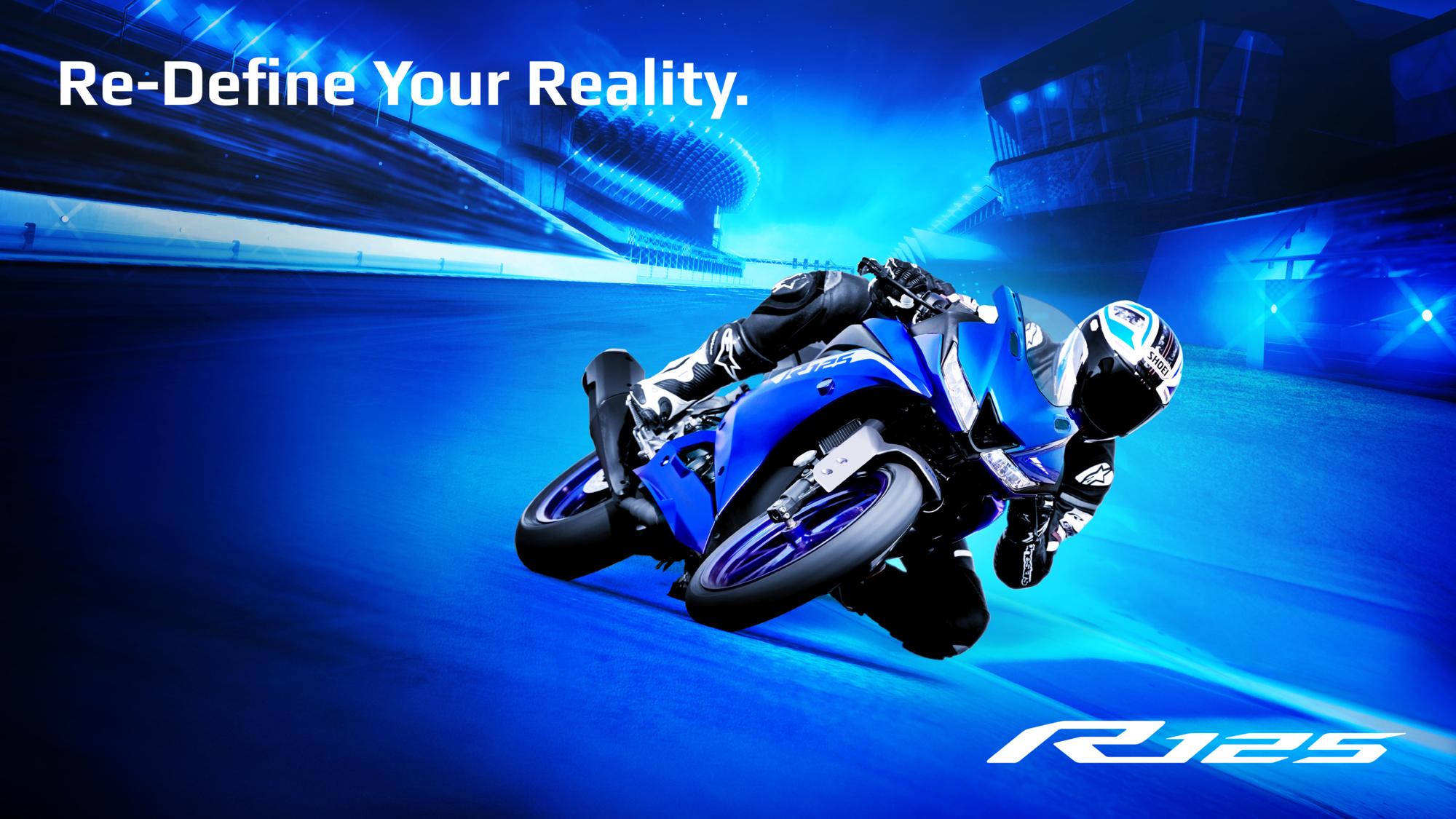 Redefinește-ți realitatea.
Modulul Supersport suprem din categoria de 125 cmc este propulsat de cel mai recent motor EU5 de 125 cmc, cu 4 supape, cu sistem special de acționare variabilă a supapelor de la Yamaha, care oferă cuplu puternic la turație redusă și putere incitantă la turație ridicată, beneficiind de accelerare puternică, redresare rapidă, viteză maximă ridicată și eficiență excepțională la toate vitezele.
Pentru manevrare precisă și tracțiune extremă, cadrul compact Deltabox este echipat cu furcă USD de 41 mm și braț oscilant ușor, din aluminiu, cu o anvelopă spate extra lată, cu secțiune de 140. În același timp, suspensia de ultimă generație și frânele cu diametru mare generează performanțe excepționale pentru un control precis. Iar caroseria aerodinamică, derivată de la R1, și farurile duble cu LED conferă un aspect extrem de puternic și viguros, confirmând statutul modelului R125 ca cel mai modern model Supersport ușor. Nu accepta niciodată compromisurile. Intră în lumea R.
Dintr-o privire
Motor de 125 cmc EU5 de înaltă tehnologie, cu acționare variabilă a supapelor
Eficiență ridicată a arderii pentru putere uniformă
Șasiul Deltabox compact asigură manevrabilitate ușoară
Braț oscilant ușor, din aluminiu, pentru stabilitate la viteză mare
Ambreiaj de tip "asistență și alunecare" (A&S) pentru control optim
Caroserie elegantă din seria R cu faruri duble cu LED
Rezervor de combustibil de 11 litri, stil seria R
Cockpit Supersport inspirat de M1 MotoGP
Instrumente LCD sportive, cu vizibilitate ridicată
Ergonomie confortabilă și eficientă
Anvelopă spate lată, cu secțiune de 140, pentru manevrare supersport
Sistem de frânare cu specificații supersport
Caracteristici şi specificaţii tehnice complete
R125
Chiar din prima zi, modelele Supersport din seria R au fost proiectate și construite utilizând filozofia "fără compromisuri". Aceasta a început cu modelul original R1, cu peste două decenii în urmă. Această motocicletă a schimbat lucrurile pentru totdeauna. De atunci, Yamaha nu s-a mai temut să introducă tehnologie de curse, de înaltă performanță, pentru șosea, considerând că fiecare pilot trebuie să aibă oportunitatea de a experimenta tehnologia inspirată de MotoGP la fiecare categorie, de la 125 cmc până la 1000 cmc.
Aţi adăugat deja acest articol. Puteţi ajusta cantitatea în coşul de cumpărături.
Produsul a fost adăugat în coş
This item is not compatible with the Yamaha you selected.
There are no required parts.