R3
Lumea R te cheamă. Propulsat de un motor Euro 5 de înaltă turație, de 321 cmc, modelul R3 este echipat complet cu o serie de caracteristici cheie care oferă performanțe remarcabile, împreună cu cea mai bună calitate și un stil atractiv. Este cel mai nou supersport ușor de la Yamaha pentru permis A2.
Construiţi-vă propriul vis R3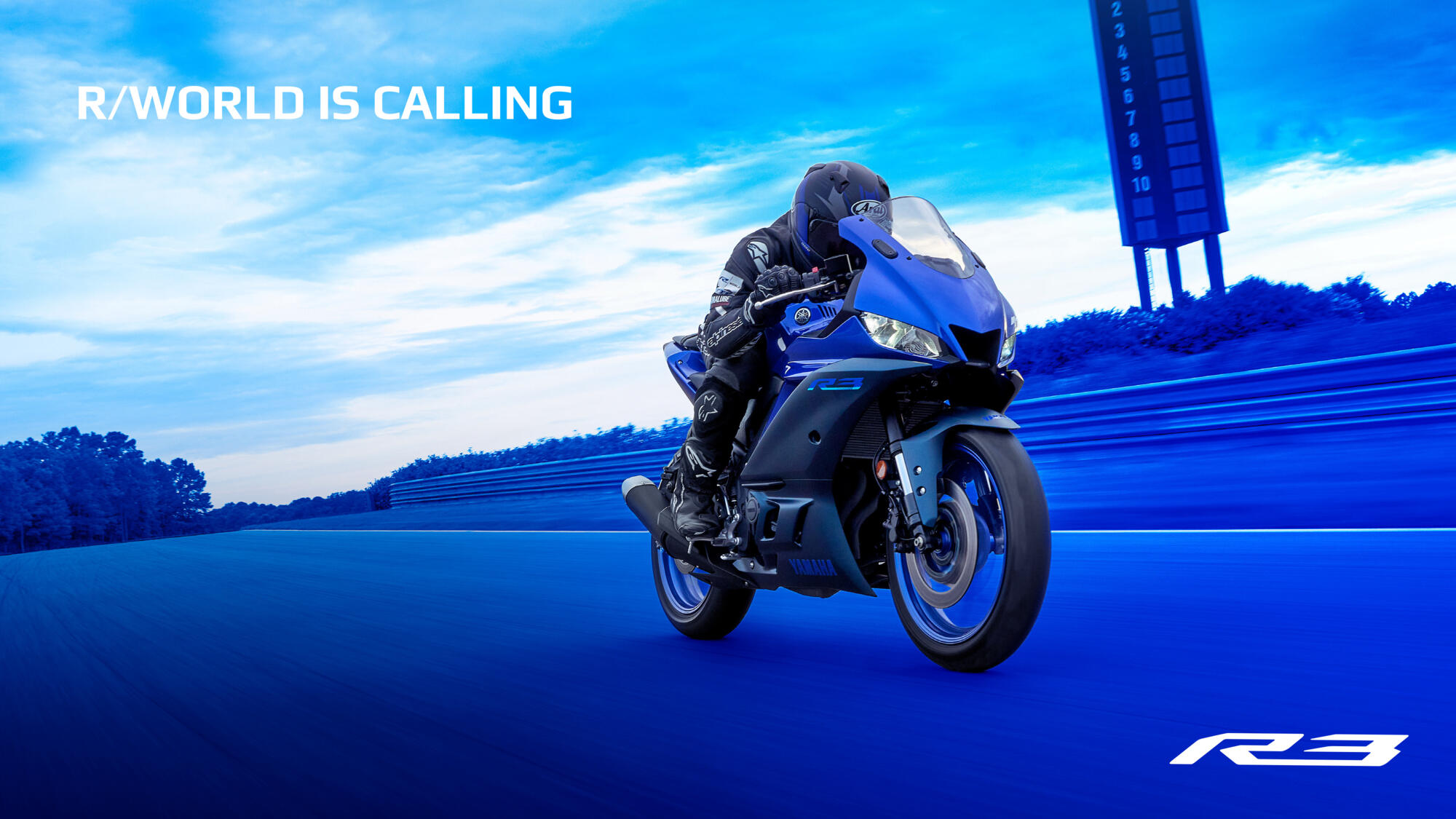 R/World te cheamă.
Carenajul elegant și atletic al modelului R3 oferă o admisie de aer centrală inspirată de emblematica motocicletă Yamaha M1 MotoGP® câștigătoare de curse. Aspectul excepțional, carenajul aerodinamic de curse și farurile duble cu LED agresive subliniază ADN-ul pur al seriei R, ceea ce îl face cel mai dorit model de 300 de pe stradă sau circuit.
Furcile față inversate KYB de înaltă specificație, de 37 mm, asigură o suspensie precisă și un răspuns exact - iar combinația dintre rezervorul de combustibil jos și ghidonul jos conferă modelului R3 o poziție de pilotaj ergonomică, cu mult confort și control precis. Acum ești pregătit să intri în R/World.
Dintr-o privire
Motor de 321 cmc Euro 5 cu regim de turație înaltă
Caroserie inspirată de M1 cu o nouă schemă de culori Icon Blue în două tonuri
Aspect exterior agresiv inspirat de R1
Motocicletă supersport ușoară din categoria de permis A2
Șasiu sportiv subțire și ușor
Faruri duble cu LED inspirate din R1
Furcă față KYB inversată de 37 mm
Poziție coborâtă a rezervorului de combustibil și a ghidonului
Jante uşoare şi anvelope supersport
Sistem puternic de frânare cu ABS
Distribuţie echilibrată a greutăţii de 50/50
Tablou de bord digital multifuncțional
Caracteristici şi specificaţii tehnice complete
R3
Fiecare model din seria R de la Yamaha este proiectat și fabricat pentru a-ți oferi călătorii palpitante de fiecare dată. R3 nu face excepție. Construit la cele mai înalte standarde, fără compromisuri, acest supersport este mereu pregătit pentru a oferi bucurie pură de pilotare.
Aţi adăugat deja acest articol. Puteţi ajusta cantitatea în coşul de cumpărături.
Produsul a fost adăugat în coş
This item is not compatible with the Yamaha you selected.
There are no required parts.
Informaţii complete despre preţuri
R3 Icon Blue
€ 6.450,00
Pret cu TVA 19% inclus
R3 Yamaha Black
€ 6.450,00
Pret cu TVA 19% inclus