R1
Încă de la bun început, R1 a fost dezvoltată fără compromisuri, iar această filozofie de design pură și concentrată este ceea ce face din această motocicletă Yamaha de înaltă tehnologie, creată pentru curse, cea mai entuziasmantă motocicletă supersport a timpurilor noastre.
Construiţi-vă propriul vis R1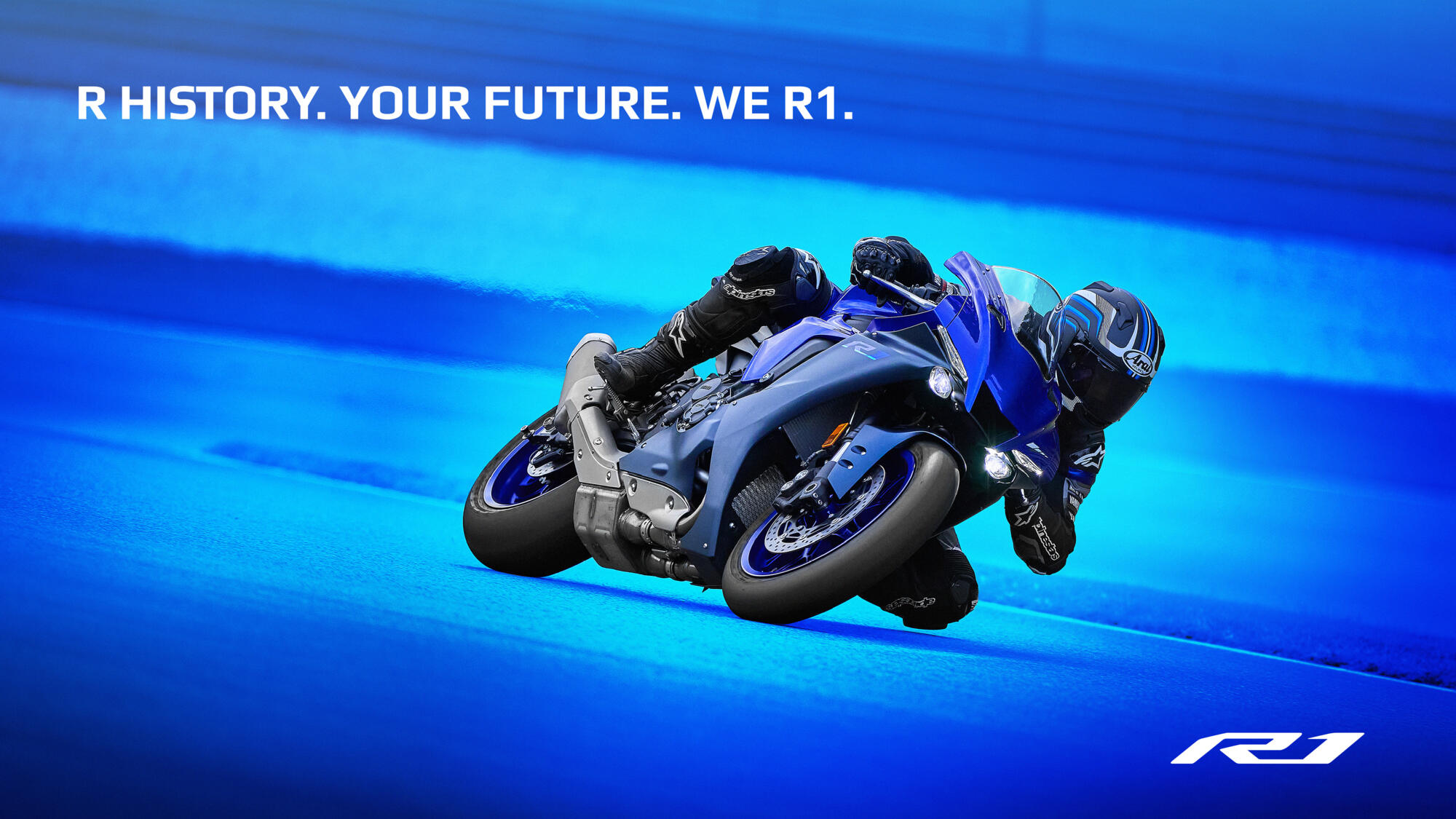 Istoria seriei R. Viitorul tău.
Fiecare parte de tehnologie avansată de pe R1 a fost dezvoltată utilizând cunoștințele dobândite din implicarea Yamaha în curse la cel mai înalt nivel. Remarcabilul motor EU5 în 4 cilindri, de 998 cmc și cu manetoane decalate este descendentul direct al unității M1, ia caroseria aerodinamică provine direct de pe pista de curse.
Dar, mai presus de toate, incredibila gamă de sisteme electronice inteligente a motocicletei R1 este cea care face această motocicletă atât de specială. Echipat cu orice, de la accelerația ride-by-wire la un sistem de control al demarajului (LCS), gestionarea frânei de motor (EBM) și controlul frânei (BC) și multe altele, acesta este modelul supersport Yamaha suprem, construit pentru a fi în top pe străzi și pe piste. Și este disponibil într-o nouă schemă sportivă de culori Icon Blue în două tonuri, cu albastru mat, precum și cu opțiunea dinamică de culoare Yamaha Black.
Dintr-o privire
Carenaj aerodinamic în stilul M1
Motor Euro 5 de 998 cmc cu eficiență superioară
Finisaj de înaltă calitate cu culori noi în două tonuri
Furci față KYB de 43 mm
Sistem de control al frânării (BC)
Sistem de gestionare a frânării motorului (EBM)
Faruri și lumini de poziție cu LED-uri de ultimă generație
Accelerație APSG ride-by-wire
Sistem de control demaraj (LCS)
Plăcuțe de frânare cu fricțiune mare
Pneuri Bridgestone Battlax RS11 - lățime de 190 pe spate
Instrumente TFT, cu afișaje EBM și BC
Caracteristici şi specificaţii tehnice complete
Aţi adăugat deja acest articol. Puteţi ajusta cantitatea în coşul de cumpărături.
Produsul a fost adăugat în coş
This item is not compatible with the Yamaha you selected.
There are no required parts.
Informaţii complete despre preţuri
R1 Icon Blue
€ 20.450,00
Pret cu TVA 19% inclus
R1 Yamaha Black
€ 20.450,00
Pret cu TVA 19% inclus