R7
De peste 20 de ani, modelele din seria R de la Yamaha au încântat mii de piloți. Acum, gama este completată cu adăugiri cu un aspect ager, gata să întâmpine o nouă generație de piloți în lumea R/World. Rapid, agil și atrăgător, modelul R7 oferă performanțe sportive și distracție de zi cu zi.
Construiţi-vă propriul vis R7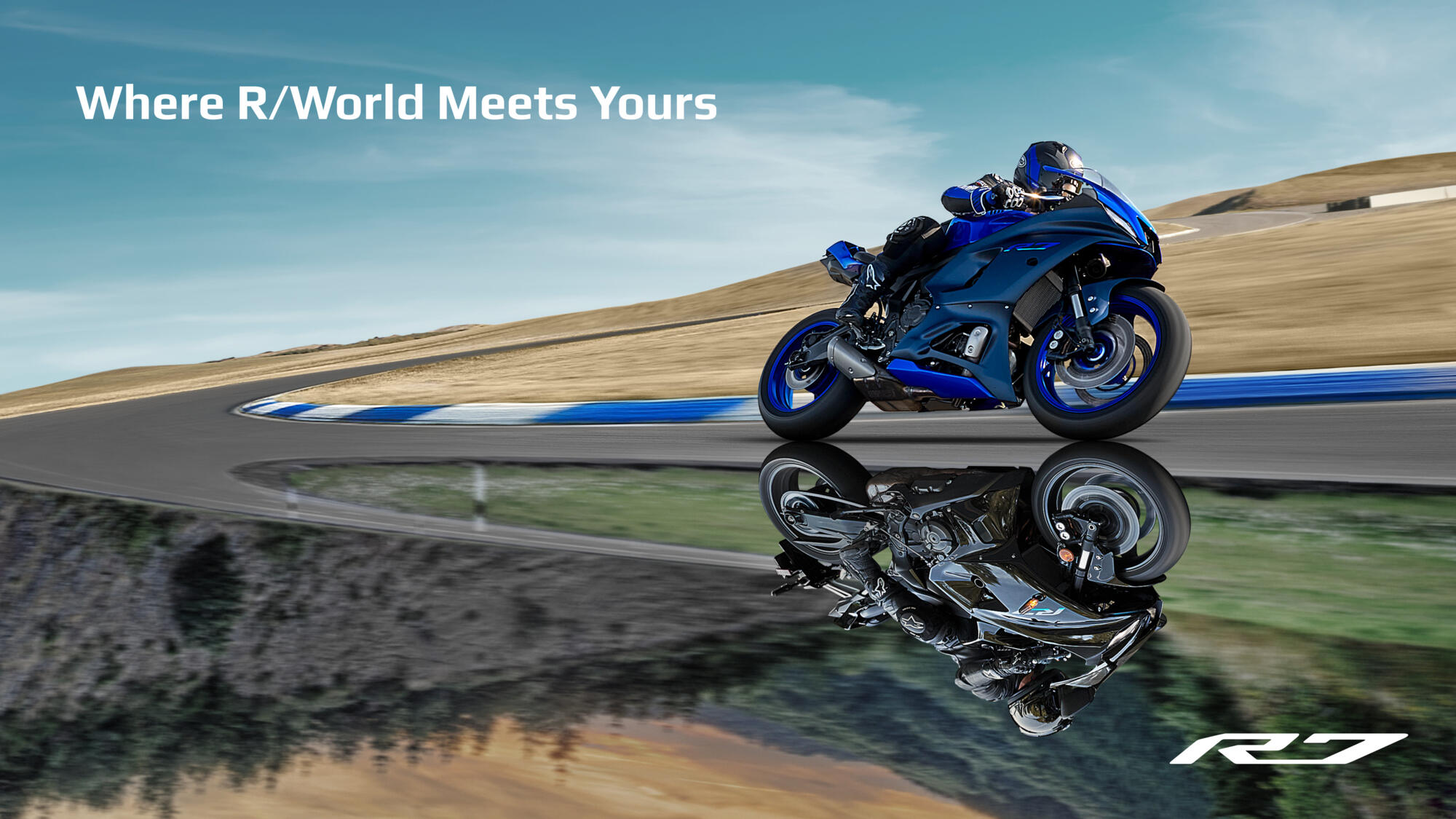 All images were shot in a permitted area
Unde lumea R se întâlnește cu lumea ta
Motorul abil CP2 de 689cc, cu ambreiaj A&S, oferă accelerație cu un cuplu ridicat pentru o experiență de pilotaj cu adevărat incitantă pe pistă și pe șosea. Carenajului foarte îngust și aerodinamic prezintă o parte frontală agresivă, cu faruri duble și un far central puternic cu LED – iar coada ascuțită și rezervorul atent sculptat sunt modelate cu ADN-ul pur al seriei R. Frânele și suspensia de calitate superioară ale modelului R7 asigură un control optim la viraje și la frânare.
Zona frontală a modelului R7 este cea mai mică dintre modelele seriei R și asigură cele mai ridicate niveluri de eficiență aerodinamică, în timp ce ghidonul Clip-on, seturile din spate și șaua cu amortizor îți oferă o poziție de pilotaj adaptabilă și sportivă. Această generație Supersport excepțională face din R/World o realitate pentru piloții ca tine, în căutare de senzații tari – indiferent dacă pilotezi pe pistă sau pe șosea.
Dintr-o privire
Motor cu cuplu ridicat CP2 de 686cc
Design atletic cu ADN-ul seriei R
Capotă aerodinamică și parte frontală cu faruri duble
Ambreiaj A&S pentru un control sporit
Cadru ușor, reglat fin pentru rigiditatea șasiului
Șoc spate articulat reglabil
Furci inversate de 41mm, complet reglabile
Poziția de pilotare sport, ghemuită, oferă agilitate optimă
Etriere de frână față puternice, cu montaj radial
Roți ușoare cu 10 spițe
Sistem opțional cu schimbare rapidă (Quick Shift System), pentru trecerea ușoară în treptele superioare de viteză
Culori pentru generația următoare
Stilul pur al seriei R
Caracteristici şi specificaţii tehnice complete
R7
Seria R de la Yamaha este într-o continuă evoluție. În timp ce modelele vârf de gamă R1M, R1 și câștigătorul Campionatului Mondial Supersport, R6 RACE, continuă să domine vârful clasamentului, R7 este destinat în mod specific piloților care își doresc un design Supersport pur cu performanțe incitante în lumea reală, la un preț accesibil.
Aţi adăugat deja acest articol. Puteţi ajusta cantitatea în coşul de cumpărături.
Produsul a fost adăugat în coş
This item is not compatible with the Yamaha you selected.
There are no required parts.
Informaţii complete despre preţuri
R7 Icon Blue
€ 9.190,00
Pret cu TVA 19% inclus
R7 Yamaha Black
€ 9.190,00
Pret cu TVA 19% inclus