Ténéré 700 Rally Edition
Când a avut loc primul raliu Dakar, în 1979, acesta a oferit modelului Yamaha XT șansa de a-și demonstra calitățile în cea mai dură cursă din lume. Piloții de XT au câștigat acest eveniment legendar în 79 și 80 și au inspirat dezvoltarea modelului original Ténéré în 1983 – motocicleta emblematică de aventură de la Yamaha, care a schimbat lumea motociclismului.
Construiţi-vă propriul vis Ténéré 700 Rally Edition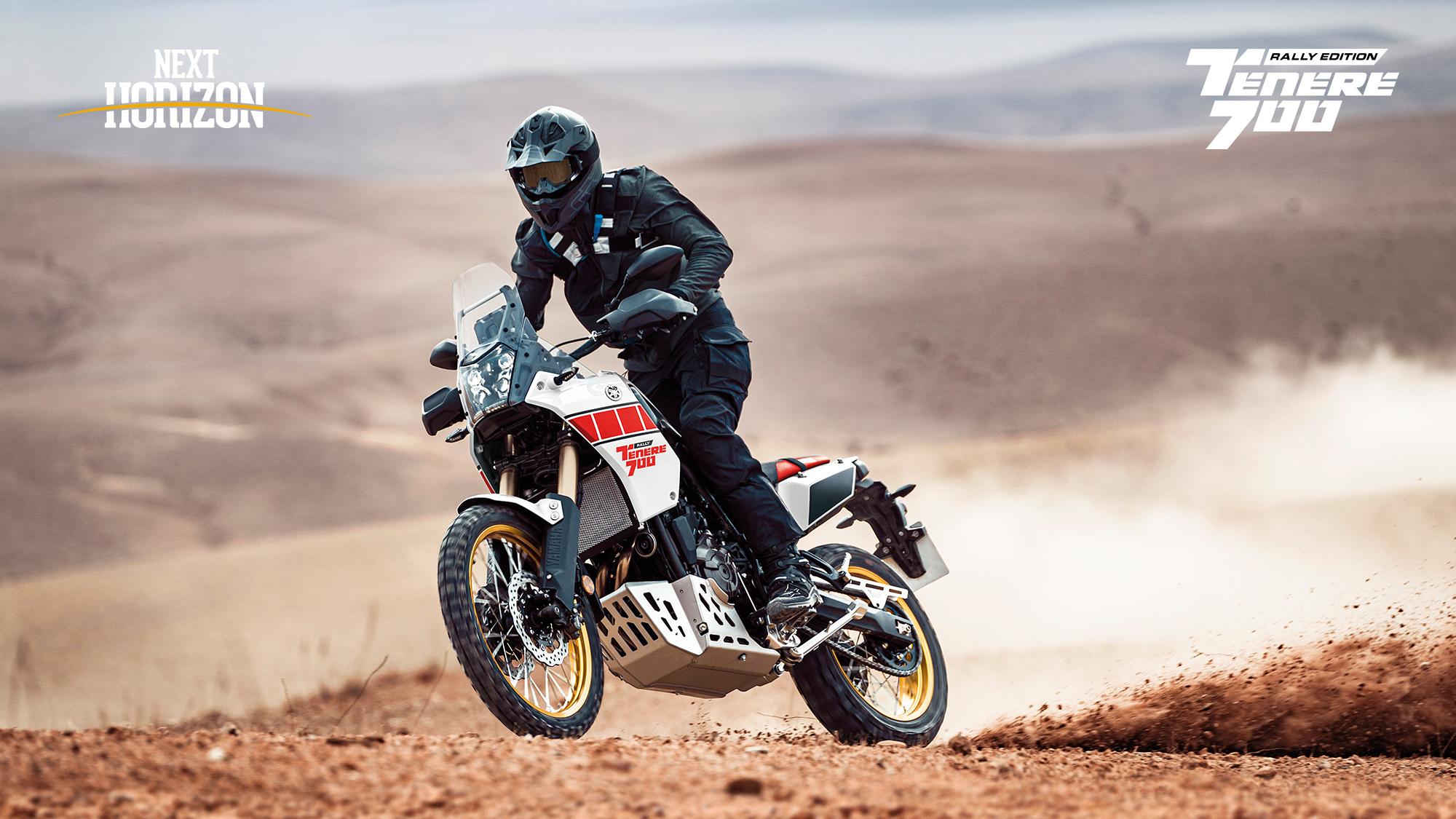 Pilotează legenda
După 40 de ani, Yamaha Ténéré 700 captează imaginația unei noi generații de piloți care vor să descopere ce se întâmplă la orizont. Ediția exclusivă Yamaha Ténéré 700 Rally beneficiază de culori de raliu retro și specificații standard înalte.
Dispunând de curse albe și roșii, grafică speedblock și jante aurii, Ténéré 700 Rally Edition aduce un omagiu bicicletelor din fabrică care s-au întrecut în Dakar. Cu componentele sale premium și ADN-ul Ténéré pur, aceasta este bicicleta de aventură supremă Yamaha.
Dintr-o privire
Șa de raliu dedicată
Caroserie şi şa subţiri, compacte şi ergonomice
Eșapament tip slip-on Akrapovič
Scut de protecție pentru utilizare intensă
Protecție radiator
Cadru din oțel tubular, ușor, cu ramă dublă
Semnalizatoare cu LED
Prize aderente
Ghidoane pentru de teren accidentat
Caracteristici şi specificaţii tehnice complete
Ténéré 700 Rally Edition
Modelul original Ténéré a ajutat Yamaha să fie cea mai de succes marcă de la Dakar, modelele XT ocupând de 18 ori podiumul în primele 6 ediții ale celei mai dificile curse din lume. ADN-ul pur de curse, care a cucerit deșertul, a fost pasat de la o generație la alta până la Yamaha Ténéré 700 Rally Edition. Și se vede.
Aţi adăugat deja acest articol. Puteţi ajusta cantitatea în coşul de cumpărături.
Produsul a fost adăugat în coş
This item is not compatible with the Yamaha you selected.
There are no required parts.
Informaţii complete despre preţuri
Ténéré 700 Rally Edition Heritage White
€ 13.050,00
Pret cu TVA 19% inclus