NMAX 125
Acum este momentul să reexaminați modul în care vă deplasați în oraș, iar noul NMAX 125 este viziunea Yamaha cu privire la noua mobilitate personală. Propulsat de un motor EURO5 Blue Core de 125 cmc, puternic și economic, care vă poate duce circa 300 km cu un rezervor de combustibil, acest scuter de navetă ușor de pilotat este dotat cu finisaje premium și specificații înalte la un preț accesibil.
Construiţi-vă propriul vis NMAX 125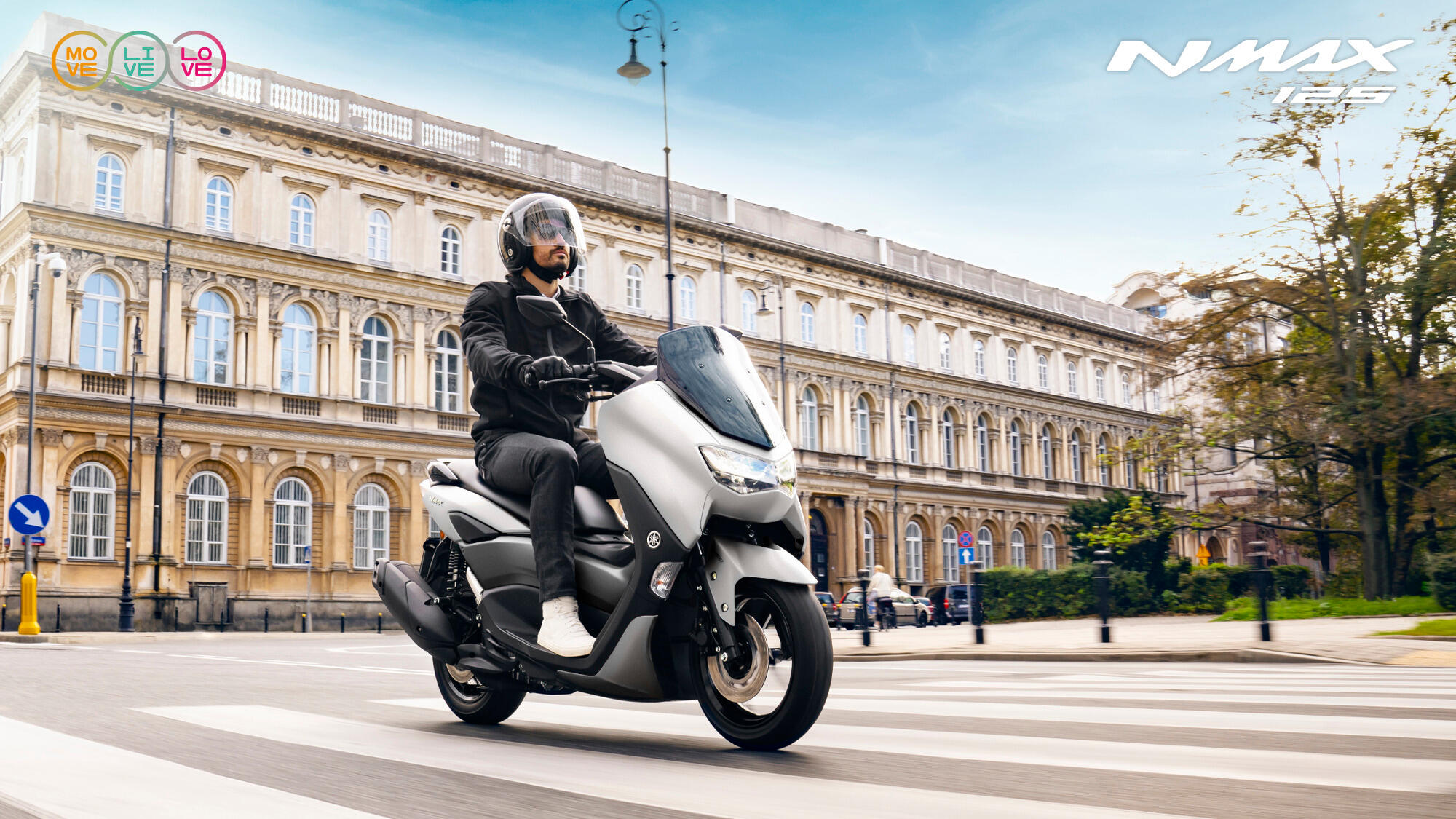 Una cu orașul
Noua caroserie sportivă și dinamică a modelului NMAX 125 dispune de lumini față și spate elegante, cu LED, precum și de o corecție aerodinamică, care oferă o protecție mai bună împotriva vântului și a ploii. Un șasiu complet nou oferă manevrabilitate îmbunătățită în traficul aglomerat al orașului, iar ergonomia ușoară face ca acest model să fie cel mai confortabil mod de a vă deplasa.
Și veți fi uimit de tehnologia înaltă care vine ca dotare standard! Unitatea de control al comunicațiilor (CCU) de la modelul NMAX 125 se asociază prin Bluetooth cu smartphone-ul dvs., pentru a vă oferi acces la informații importante, iar caracteristicile, precum sistemul de pornire fără cheie Smart Key, priza de putere și depozitarea sub șa fac viața cotidiană mult mai ușoară.
Dintr-o privire
Motor Blue Core EURO5 de 125 cmc
Design sportiv al carenajului
Unitate de control al comunicaţiilor CCU
Sistem de control al tracţiunii
Start & Stop
Sistem Smart Key
Frâne pe disc față și spate, cu ABS
Priză de putere și buzunare frontale
Spațiu de depozitare sub șa
Cadru nou proiectat
Instrumente LCD mai mari
Caracteristici şi specificaţii tehnice complete
NMAX 125
Modul în care ne trăim viața se schimbă și este timpul să luăm în considerare noi modalități de a ne deplasa în oraș și în jurul său. Necesitatea distanțării sociale înseamnă că sistemele de transport public aglomerate și-au pierdut din atractivitate – în timp ce automobilul nu mai este viabil din cauza străzilor aglomerate, a parcărilor costisitoare și a creșterii taxelor.
Aţi adăugat deja acest articol. Puteţi ajusta cantitatea în coşul de cumpărături.
Produsul a fost adăugat în coş
This item is not compatible with the Yamaha you selected.
There are no required parts.
Informaţii complete despre preţuri
NMAX 125 Milky White
€ 3.650,00
Pret cu TVA 19% inclus
NMAX 125 Phantom Blue
€ 3.650,00
Pret cu TVA 19% inclus
NMAX 125 Power Grey
€ 3.650,00
Pret cu TVA 19% inclus