NMAX 155
Vremurile se schimbă, iar noi toți trebuie să ne gândim la cel mai inteligent mod de a călători în oraș și în jurul său. Propulsat de un motor puternic de 155 cmc, care vă oferă o accelerație mai rapidă, pentru o depășire mai ușoară - precum și o viteză maximă mai mare pentru a vă ajuta să vă strecurați în trafic pe autostradă – noul NMAX 155 este viziunea Yamaha asupra noii mobilității personale.
Construiţi-vă propriul vis NMAX 155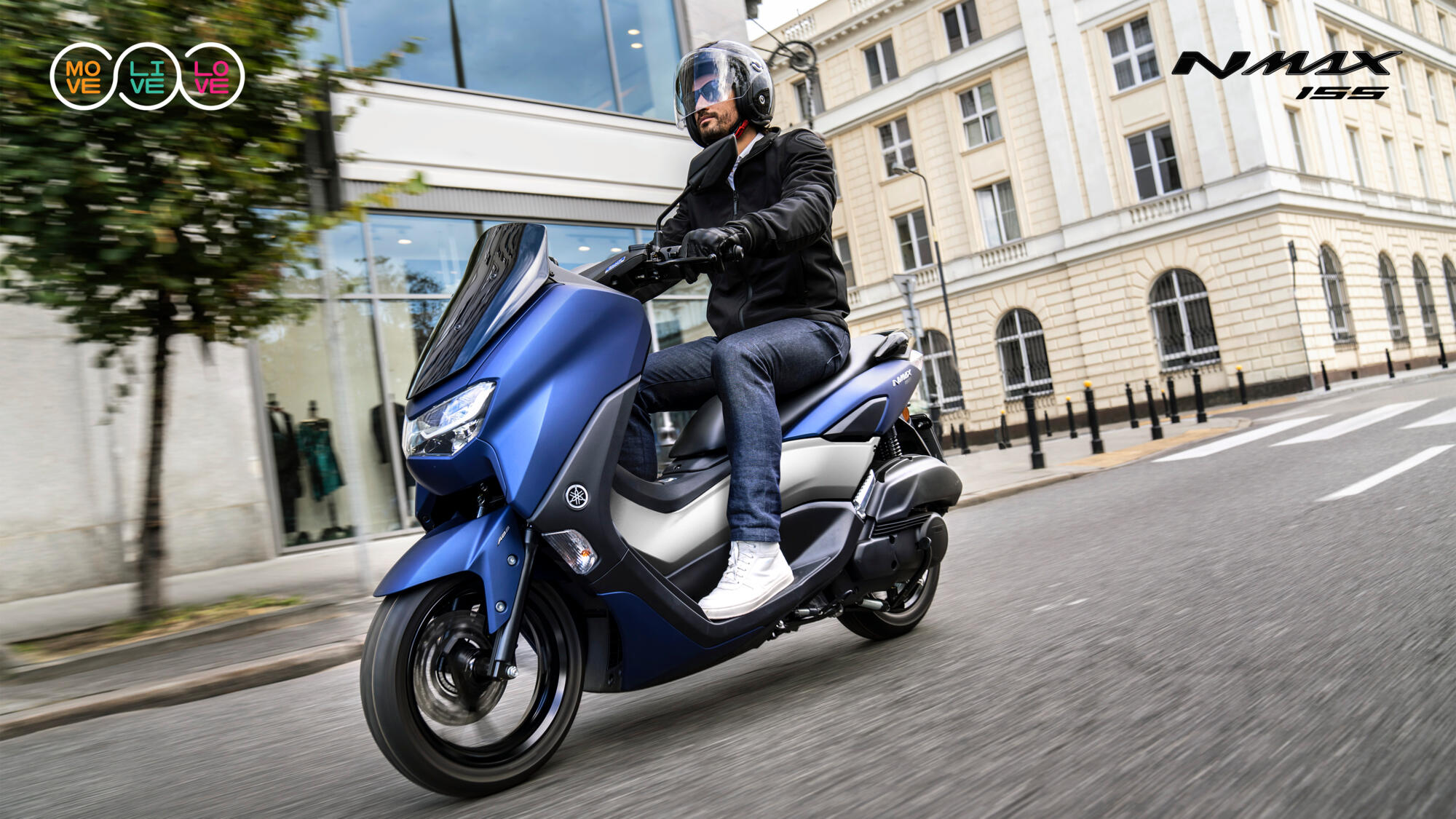 Una cu orașul
Noul design sport al caroseriei este dotat cu cele mai recente lumini LED și dispune de o corecție față aerodinamică, care oferă o protecție sporită împotriva vântului și a ploii, în timp ce noul cadru asigură o manevrabilitate mai ușoară în trafic și oferă o poziție de pilotaj mai confortabilă și mai relaxată.
Dar ceea ce face cu adevărat din NMAX 155 modelul de navetă urbană suprem este abilitatea sa de a vă menține conectat în orice moment. Noua sa unitate de control al comunicațiilor (CCU) se asociază prin Bluetooth cu smartphone-ul dvs., pentru a vă oferi acces la informații importante, iar caracteristicile, precum sistemul de pornire fără cheie Smart Key, priza de putere și depozitarea sub șa fac viața cotidiană mult mai ușoară.
Dintr-o privire
Motor Blue Core EURO5 de 155 cmc
Frâne pe disc față și spate, cu ABS
Priză de putere și buzunare frontale
Sistem de control al tracţiunii
Design nou sportiv al caroseriei
Unitate de control al comunicaţiilor CCU
Sistem Smart Key
Cadru nou proiectat
Start & Stop
Spațiu de depozitare sub șa
Instrumente LCD mai mari
Caracteristici şi specificaţii tehnice complete
NMAX 155
Modul în care ne trăim viața se schimbă și este timpul să luăm în considerare noi modalități de a ne deplasa în oraș și în jurul său. Necesitatea distanțării sociale înseamnă că sistemele de transport public aglomerate și-au pierdut din atractivitate – în timp ce automobilul nu mai este viabil din cauza străzilor aglomerate, a parcărilor costisitoare și a creșterii taxelor.
Aţi adăugat deja acest articol. Puteţi ajusta cantitatea în coşul de cumpărături.
Produsul a fost adăugat în coş
This item is not compatible with the Yamaha you selected.
There are no required parts.
Informaţii complete despre preţuri
NMAX 155 Phantom Blue
€ 3.800,00
Pret cu TVA 19% inclus
NMAX 155 Milky White
€ 3.800,00
Pret cu TVA 19% inclus
NMAX 155 Power Grey
€ 3.800,00
Pret cu TVA 19% inclus