Tricity 125
Mulți dintre noi renunță la sistemele aglomerate de transport în comun și, având în vedere costurile tot mai mari ale combustibilului și taxele de drum urban, călătoria cu mașina nu este întotdeauna o propunere realistă. Așadar, nu a existat niciodată un moment mai bun pentru a vedea cum Tricity 125 îți poate oferi libertate totală în orașul tău.
Construiţi-vă propriul vis Tricity 125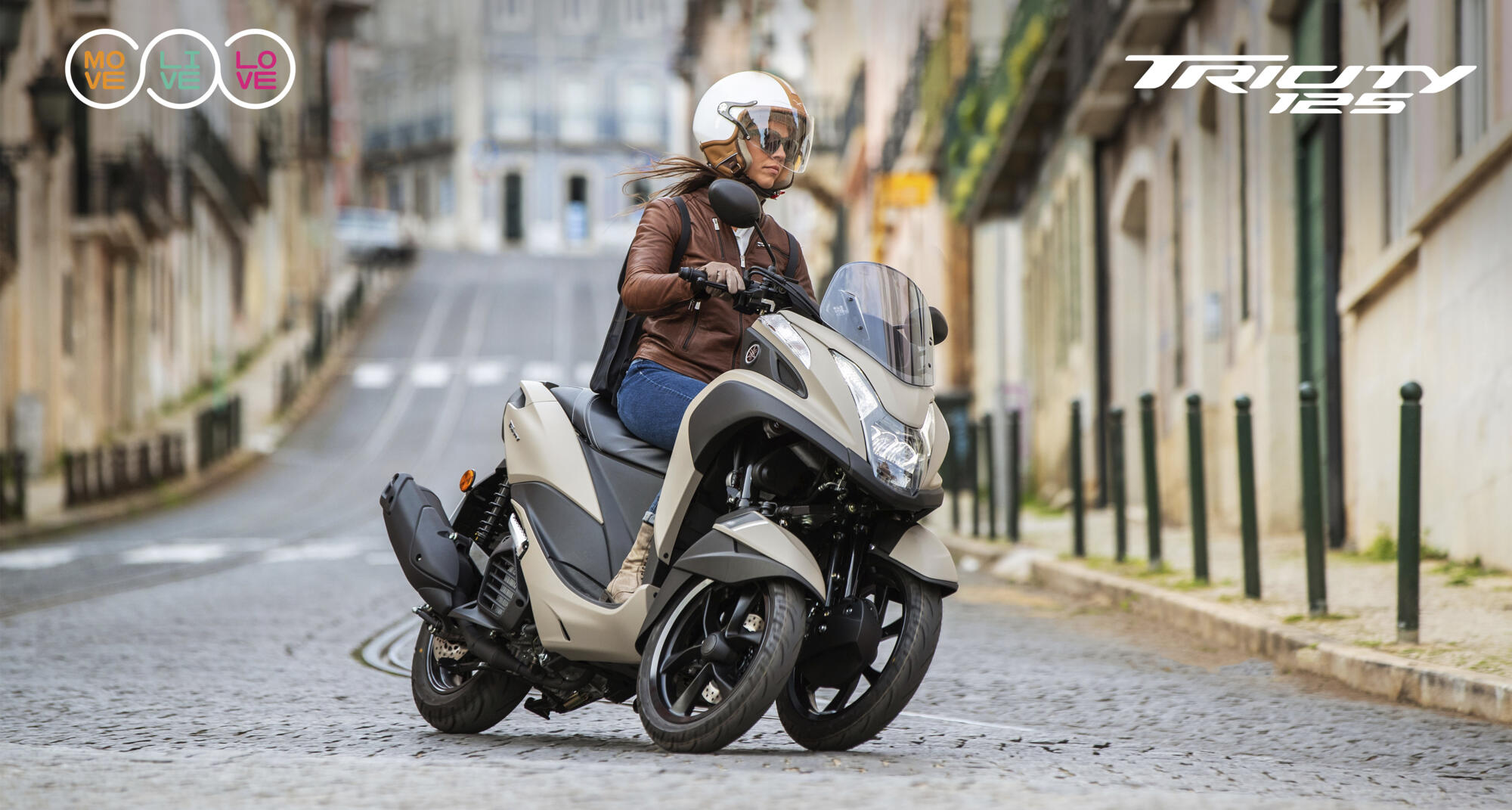 Îmi place cum mă mișc.
Propulsat de cel mai nou motor EURO5 Blue Core de 125 cmc cu un nou sistem Stop & Start, acest scuter elegant cu 3 roți oferă performanțe excelente cu o economie de combustibil impresionantă. Roțile față duble oferă un sentiment sporit de stabilitate și încredere în viraje - și pentru că poate fi condus cu permis categoria B*, este ușor să te deplasezi cu Tricity 125! (*Se pot aplica limitări și restricții în funcție de țară, în conformitate cu legislația în vigoare. În plus, Yamaha recomandă tuturor piloților să ia un curs de instruire pe motocicletă înainte de a pilota orice vehicul pe două sau trei roți.)
Noul șasiu cu suspensie spate rafinată și o suprafață mai mare a suportului pentru picioare asigură cele mai înalte niveluri de confort la condus - iar cu noile instrumente LCD conectate poți vizualiza notificările în timp real cu privire la apelurile primite, rețelele de socializare, e-mailuri și mesajele text, descărcând aplicația gratuită MyRide de la Yamaha. Tricity 125: Îmi place cum mă mișc.
Dintr-o privire
Motor nou EURO5 Blue Core 125 cmc
Configurație cu 3 roți optimizată
Șasiu nou pentru confort sporit
Tehnologie Start & Stop pentru pornirea/oprirea motorului
Suspensie spate cu amortizor dublu
Frâne pe disc față și spate, cu UBS optimizat
Instrumente LCD noi cu conectivitate pentru smartphone
Nou sistem de operare fără cheie Smart Key
Suprafață mai mare suport pentru picioare
Far LED cu fascicul mai larg
Spațiu de depozitare sub scaun și buzunar frontal
Caracteristici şi specificaţii tehnice complete
Tricity 125
Tricity 125 este atât de atractiv pentru o gamă largă de clienți deoarece este singurul scuter cu 3 roți din clasa 125 cmc - ceea ce îl face cel mai ușor și mai agil vehicul de mobilitate urbană de acest tip. Iar acest scuter pentru naveta ușor de utilizat este conceput pentru a insufla un sentiment real de încredere în timpul deplasării și o senzație sporită de stabilitate, ceea ce îl face ideal pentru toată lumea.
Aţi adăugat deja acest articol. Puteţi ajusta cantitatea în coşul de cumpărături.
Produsul a fost adăugat în coş
This item is not compatible with the Yamaha you selected.
There are no required parts.