Tricity 300
Tricity 300 este pregătit să îți schimbe viața. Configurația cu 3 roți oferă un nou sentiment de stabilitate și încredere și, datorită faptului că este cel mai ușor și mai elegant model din clasa sa, reprezintă cel mai inteligent mijloc de transport urban. Iar vestea bună este că îl poți pilota cu permisul auto de categoria B!* (*Se pot aplica limitări și restricții în funcție de țară, în conformitate cu legislația în vigoare. În plus, Yamaha recomandă tuturor piloților să ia un curs de instruire pe motocicletă înainte de a pilota orice vehicul pe două sau trei roți.)
Construiţi-vă propriul vis Tricity 300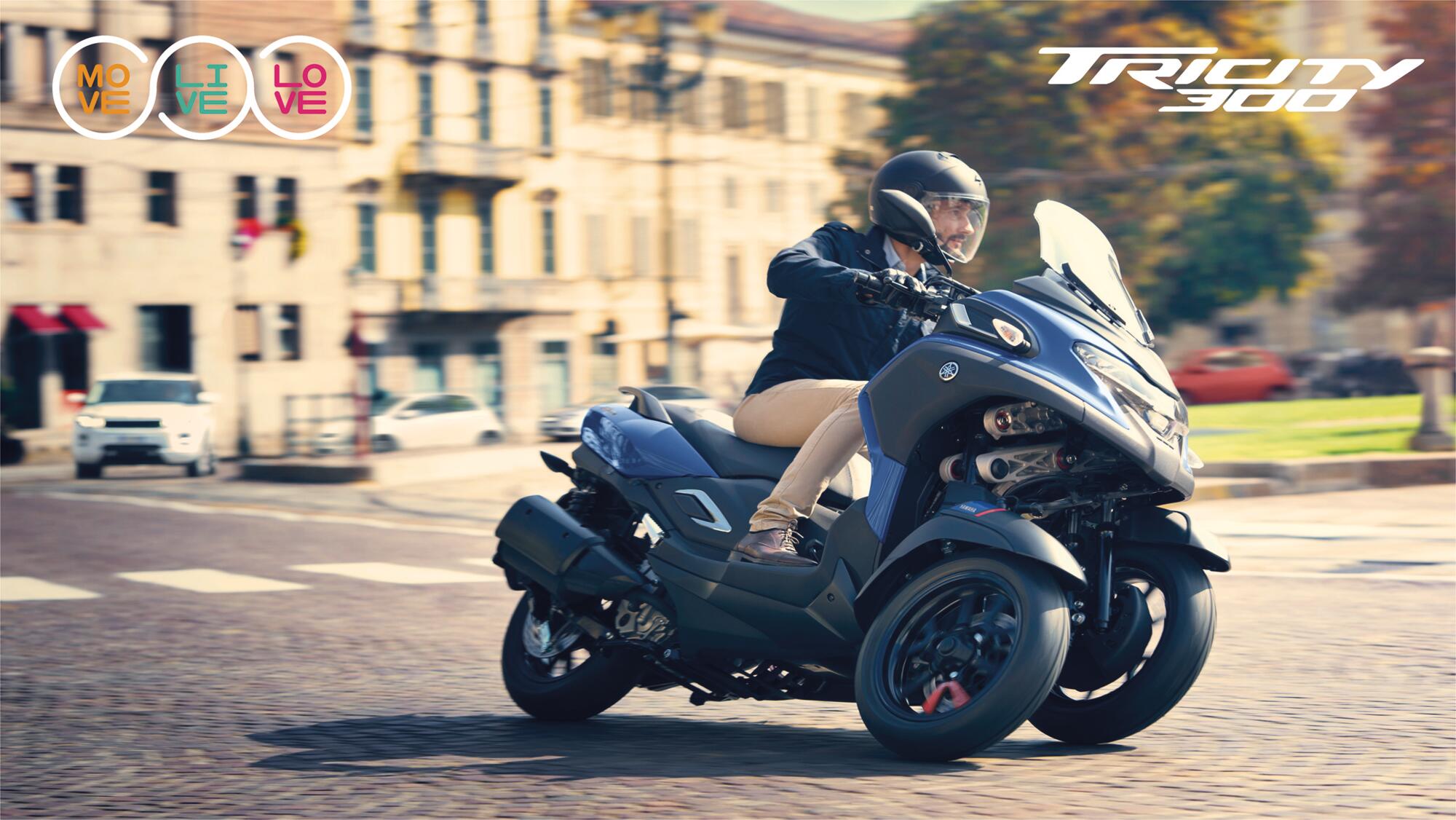 Cel mai bun mijloc de transport din oraș
Totul despre acest vehicul premium din gama Urban Mobility este conceput pentru a face transportul urban simplu, ușor și plăcut. Roțile frontale duble cu înclinare oferă o aderență suplimentară pentru viraje line, iar direcția ușoară și dimensiunile înguste îi permit să se strecoare pe străzile aglomerate.
De fiecare dată când oprești, sistemul de blocare a înclinării este binevenit – iar atunci când semaforul devine verde, motorul Blue Core cu răspuns rapid, de 300 cmc, conform cu EURO5, îți permite să ajungi la destinație într-un timp record. Cu o caroserie elegantă superbă și o specificație de top în clasa sa, modelul Tricity 300 este cel mai bun mijloc de transport din oraș.
Dintr-o privire
Sistem de control al tracțiunii (TCS)
Frână cu disc de diametru mare
Mobilitate urbană cu 3 roți, cu ADN Tricity
Standing Assist System
Cel mai ușor din clasa sa/autonomie
Spațiu depozitare generos
Indicatoare LCD și finisaj de înaltă calitate
Motor economic și puternic, de 300 cm3 cu tehnologie Blue Core, conform normelor EURO5
Caracteristici şi specificaţii tehnice complete
Tricity 300
Yamaha duce mobilitatea urbană la un nivel superior, cu noul Tricity 300. Motorul său economic Blue Core EURO5 de 300 cmc vă oferă putere suficientă pentru a pilota pe distanțe lungi pe autostradă. Iar cuplul puternic și accelerația lină fac din acest model cel mai inteligent și mai rapid mijloc de transport în oraș și în jurul acestuia.
Aţi adăugat deja acest articol. Puteţi ajusta cantitatea în coşul de cumpărături.
Produsul a fost adăugat în coş
This item is not compatible with the Yamaha you selected.
There are no required parts.
Informaţii complete despre preţuri
Tricity 300 Petrol Blue
€ 8.890,00
Pret cu TVA 19% inclus
Tricity 300 Sand Grey
€ 8.890,00
Pret cu TVA 19% inclus
Tricity 300 Gunmetal Grey
€ 8.890,00
Pret cu TVA 19% inclus