Lepota dela.
Poganja ga novi agregat MK II s prostornino 686 cm3 in z visokim navorom. Ima kompaktno šasijo in razkošen sedež za udobno celodnevno vožnjo. To izjemno delovno vozilo lahko prevaža 140 kg tovor in voznika ter vleče do 600 kg.
Z gladko delujočim CVT-menjalnikom Ultramatic® in mehanskim sistemom na 2- ali 4-kolesni pogon je ta ATV idealen za vleko in celodnevno delo.
Hiter prikaz
Delovni model ATV z najboljšim razmerjem med ceno in kakovostjo
Zmogljiv 4-taktni agregat SOHC z visokim navorom in prostornino 686 cm3
Yamahin avtomatski menjalnik CVT Ultramatic®
On-Command® z 2-/4-kolesnim pogonom
Yamahin električni servo volan (model EPS)
Skupna nosilnost sprednjega in zadnjega prtljažnika 140 kg
Vlečna zmogljivost 600 kg in vitel na sprednjem delu
Sprednje kolutne zavore in zaprt sistem mokre zadnje zavore
Neodvisno vzmetenje z dolgim hodom
25-palčne pnevmatike Maxxis, spredaj 25 x 8 x 12, zadaj 25 x 10 x 12
Digitalna instrumentalna plošča
Sredinska halogenska delovna luč (model EPS)
Yamaha ponuja možnost homologacije kategorije T; podrobnosti preverite z lokalnim prodajalcem.
Kodiak 700 EPS
Yamaha je pri izdelavi svojih delovnih modelov ATV pred seboj imela le en cilj, tj. olajšati delo v okoljih s težkimi razmerami.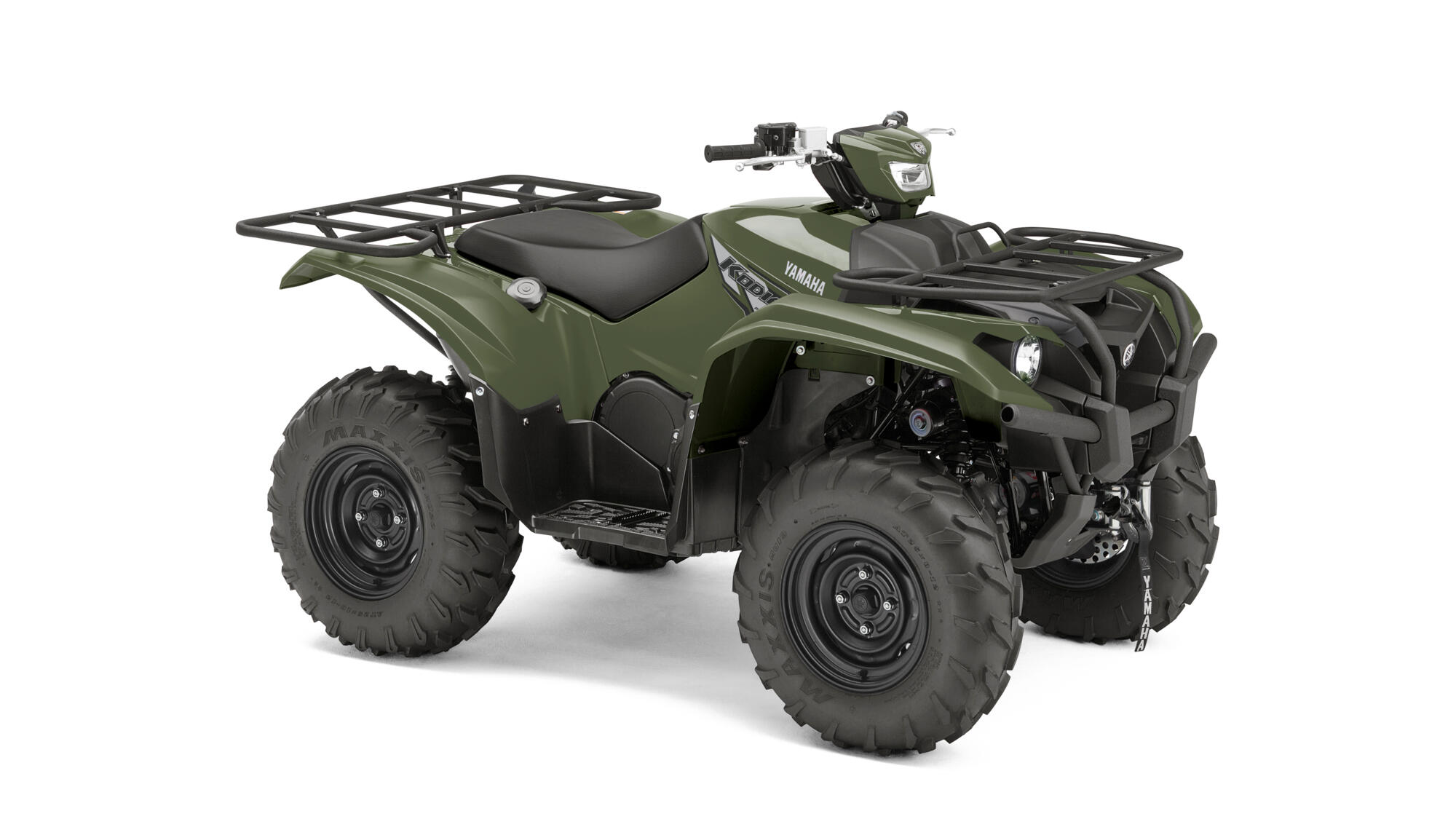 Ta izdelek ste že dodali. Število enot lahko spremenite v nakupovalnem vozičku.
Izdelek je dodan v voziček
This item is not compatible with the Yamaha you selected.
There are no required parts.